High cotton prices, dull demand to keep textile stocks in check: Analysts
With cotton prices at home on the higher end versus global markets, analysts believe that the disparity is affecting India's global competitiveness in the near-term.
Lovisha Darad reports.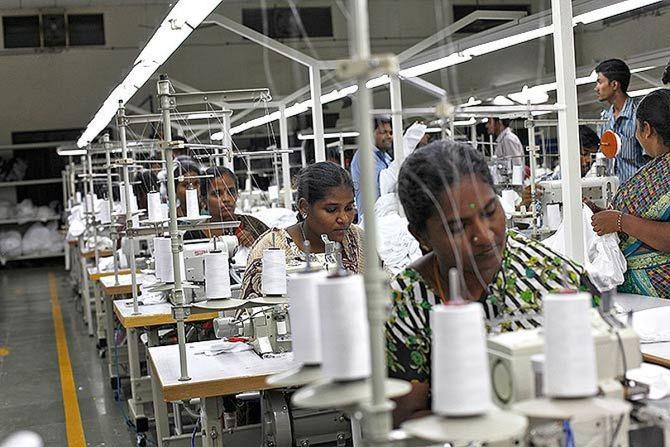 Textile stocks have exhibited a mixed performance so far this calendar year (CY23), amidst higher domestic cotton prices and tepid global demand.
Shares of Page Industries, Dollar Industries, Lux Industries, and VIP Clothing have declined up to 13 per cent so far in CY23, as against a 9 per cent jump in the S&P BSE Sensex.
On the contrary, shares of Arvind, Welspun India, Raymond, and Gokaldas Exports have gained up to 51 per cent, during the same period.
With cotton prices at home on the higher end versus global markets, analysts believe that the disparity is affecting India's global competitiveness in the near-term.
VK Vijayakumar, chief investment strategist of Geojit Financial Services, for instance, said that textile exporters like Bangladesh, Vietnam, and Cambodia were benefiting from lofty cotton prices in India due to lower custom duty in their respective countries.
The consequent higher prices rendered Indian exports uncompetitive, thereby hurting the domestic industry, he added.
Historically, Indian cotton prices have largely remained at par or lower than international cotton prices.
However, in fiscal year 2022-23 (FY23), domestic cotton prices were 20-24 per cent higher than global markets due to elevated import duty (11 per cent) versus Asian peers and inflationary pressures emanating in the West and European nations.
This, therefore, resulted in domestic exports to hit a decade-low level of 6.6 lakh tonnes in FY23, compared to 13.8 lakh tonnes in FY22, showed data from Confederation of Indian Textile Industry (CII). Export of cotton yarn, fabrics, and handloom products, too, slid 1.2 per cent year-on-year (YoY) in June, while shipment of man-made products, carpets, and jute products plunged up to 26.7 per cent YoY.
Consequently, cotton yarn exports stood at 19 per cent of cotton yarn produced in FY23, wrote analysts at CareEdge Ratings in their recent note.
"Though the spinning units were able to pass on the increase in cotton prices to some extent, the significant drop in sales volume, rising energy costs and freight rates, led to a contraction in operating profitability margins.
"The average spread of cotton yarn remained around Rs 100-105 per kg, similar to pre-Covid levels," they added.
Moreover, earlier this month, spinning mills in Tamil Nadu were forced to suspend operations as they incurred heavy losses, suggested reports.
Textile industry bodies urged the Indian government to reduce bank interest rates to 7.5 per cent from 11 per cent as they increased the cost of yarn production by Rs 1/kg.
Against this backdrop, analysts at Antique expect textile companies to report 15 per cent YoY average net profit decline in the April-June quarter (Q1FY24), with 14 per cent YoY average drop in earnings before interest, tax, depreciation, and amortisation (Ebitda).
That said, while overhangs for the textile industry are unlikely to diminish in the near-term, analysts remain hopeful of recovery from the second half of this fiscal year (H2FY24).
Vijayakumar of Geojit Financial Services predicts large-size companies like Welspun India and Raymond to display resilience during these challenging times, and remains bullish from a long-term perspective.
On the other hand, Deepak Jasani, head of retail research, HDFC Securities forecasts gradual re-rating in the textile sector from H2 onwards, given government's thrust via production-linked incentives, rebates, and free trade agreements.
Source: Read Full Article