Pension power: Murdoch's solid gold handshake
Save articles for later
Add articles to your saved list and come back to them any time.
Much has been said and written in Australia about the impending retirement of K Rupert Murdoch as chairman of the global news empire he founded and his family still controls.
But what has been a bit overlooked, locally anyway, is that Murdoch — as so often in his long career — has engineered a very handy deal for himself in his sort of retirement.
The man who made the news will be entitled to pension benefits worth nearly $219 million from his US operation Fox Corp when he steps down as chairman of the company in November, according to the latest filings to the American corporate regulator.
Closer to home, Murdoch senior — who will take up the role of emeritus chairman and be succeeded in the top job by his son Lachlan Murdoch — was entitled to a touch over $6.4 million from the News Corp Australian operation, plus his bonus $2 million in the financial year 2022.
Rupert's updated entitlements are yet to be published, but we're tipping that they'll beat the bum off the aged pension.
PIT STOPPED
David Dicker cuts an unusual figure among Australia's rich-listers. With his flowing white mane, he looks more the Old Testament prophet than software entrepreneur, and Dicker's eponymous data company has an understated vibe that doesn't prompt the same breathless excitement of other homegrown tech outfits.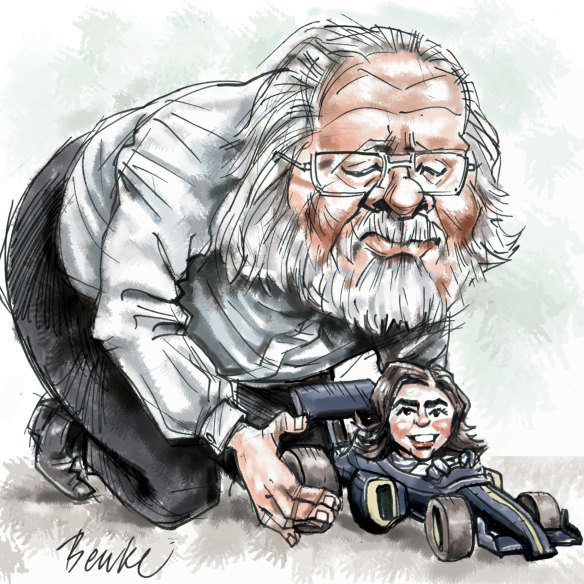 Joe BenkeCredit: Jozsef Benke
CBD, however, has been more excited by Dicker's attempts to create a Formula 1 outfit, and make Jamie Chadwick the competition's first female driver in over 30 years. That dream was put to an end over the weekend, by the motorsport's governing body FIA, which rejected every bid for a new team, except one associated with American outfit Andretti Global.
In June, Dicker said his guess was the FIA wouldn't put his team in the competition, hinting the whole female driver thing wouldn't go down so well with the "current guys" running the sport.
No reason has been given for the snub, and the politics of Formula 1 are messy to say the least, but looks like Dicker was right to be a little pessimistic.
FLYING BLIND
This week's hearings of the Senate inquiry into those extra Qatar Airlines flights that never were are providing some drama already, with intrigue building around whether representatives of the Middle Eastern carrier itself are going to make an appearance.
Qatar was briefing journalists last week, after declining to appear at the committee's hearing on Tuesday, that it would "definitely" show up this week when the senators gather again in Brisbane on Tuesday and Canberra on Wednesday.
But the office of Nationals deputy leader Bridget McKenzie, who is chairing the committee, told us on Sunday that nobody — not even Qantas chairman Richard Goyder and CEO Vanessa Hudson who are both widely expected to appear in Canberra — were 100 per cent guaranteed to appear.
Fear not, said Qantas people, Goyder and Hudson will be there.
As for Qatar, we asked but didn't hear back from their people on Sunday, so it's anybody's guess whether the committee will hear from them, although we can confirm that they haven't said no.
Meantime, Labor — which really didn't want the Senate probe to go ahead — wasn't especially impressed by the inquiry's visit to Perth on Friday with one of the committee members, ALP senator Tony Sheldon, pointing out that only five of the 16 witnesses heard on the day showed up in person, with the rest appearing by videolink, mostly from the east coast.
Sheldon — a former leader of the TWU, a major Qantas workplace union — insists the whole exercise was a waste of "tens of thousands of dollars" in taxpayers' money, sending senators, staffers, public servants, the whole travelling circus over to the west for such an underwhelming turnout.
But McKenzie's people dismissed Sheldon's criticism on Sunday as Labor "running interference" in the inquiry, pointing to nuggets of valuable evidence unearthed — such as Perth Airport only finding out last week that it was on the list of Qatar's desired destinations for the new flight slots — making it well worth the journey.
IN A FIT
Nobody goes to Canberra's Parliament House to lose weight. The long hours, bad food, regular bouts of boozing aren't conducive to a healthy, wholesome lifestyle.
Hoping to buck that trend, 20 MPs and senators plus their staff have signed up to a "fit for office" challenge, which involves volunteering to wear heart rate monitors for the next four weeks, with their exercise efforts shown in real-time on a group leaderboard, like a ghoulish version of Strava.
There's even a prize for fittest MP, but with former Wallabies captain David Pocock signed up, along with assistant treasurer and prolific marathon runner Andrew Leigh, we reckon most of the well-meaning pollies won't stand much chance.
Still, as political fitness initiatives go, it's a good deal less memorable than the infamous pollie pedal, a long-running charity bike ride created by former prime minister Tony Abbott.
In 2014, participating MPs claimed thousands in taxpayer-funded travel allowance.
And in 2018, Abbott and his offsider Kevin Andrews used the pollie pedal to travel to a coal-fired power station and lay into then-PM Malcolm Turnbull.
Fortunately, shadow treasurer Angus Taylor, who is often spotted in running gear doing laps of the corridors of power, has been keeping pollie pedal alive in Abbott and Andrews' absence.
The Morning Edition newsletter is our guide to the day's most important and interesting stories, analysis and insights. Sign up here.
Most Viewed in National
From our partners
Source: Read Full Article