Experts sound alarm over China buying US land near military bases: 'Chilling'
video
China buying farmland close to US military bases could have a dangerous impact on the Air Force: Michael Pillsbury
Hudson Institute China expert Michael Pillsbury weighs in on China's surveillance mission and their decision to increasingly purchase farmland close to U.S. military bases on 'Mornings with Maria.'
Concerns are growing over China's effort to buy up American farmland near U.S. military bases. 
China expert Michael Pillsbury issued an urgent warning on "Mornings with Maria," for legal action to be taken against the Chinese Communist Party as concerns for national security swell. 
"It's a very important subject and it's a good example of a larger problem," he told host Maria Bartiromo on Monday. 
"There needs to be a law passed by both houses, signed by the president monitoring this or saying it cannot be done if it's so many hundreds of miles away from an Air Force base. But there's no action by Congress," he continued. 
According to the USDA, Chinese landowners control approximately 383,000 acres of U.S. farmland – and their investments are growing, FOX Business' Lydia Hu reported on Monday. Chinese ownership of U.S. farmland jumped more than 20-fold in a decade from $81 million in 2010 to nearly $1.9 billion in 2021.
Hu pointed out that the Fufeng Group, a China-based chemical manufacturing company, bought 300 acres of land for a corn mill in Grand Forks, North Dakota. The location is only 12 miles away from the Grand Forks Air Base, home to U.S. intelligence, surveillance and reconnaissance units and top-secret drone technology. 
Sen. Mike Rounds, R-SD, is one of a group of lawmakers sounding the alarm over the matter. He is leading a bipartisan effort to prevent China and other foreign adversaries from being able to buy into land or businesses involved in U.S. agriculture.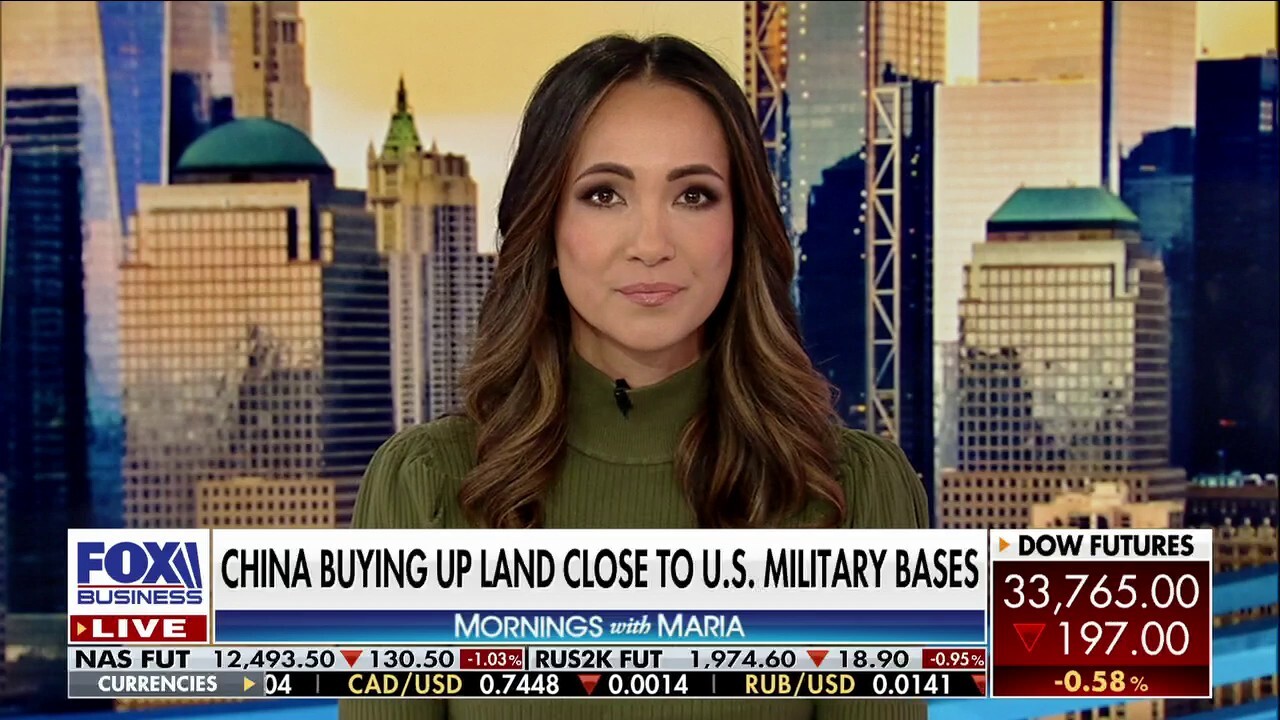 video
China progressively buying up farmland close to US military bases
FOX Business' Lydia Hu joined 'Mornings with Maria' to discuss the nation's growing concern for national security as China continues to purchase farmland close to U.S. military bases.
"China, the Chinese Communist Party, has increased their holdings of farmland outside of China by 1,000% in the last few years… They own 1,300 egg processing facilities outside of China at a value of $35 billion. Food security is national security," Sen. Mike Rounds, R-SD, said on "The Evening Edit" Friday. 
FAA GROUND STOP FOR CHINESE SPY BALLOON SHOOTDOWN RESULTS IN MASSIVE FLIGHT RADAR GAP OFF SOUTH CAROLINA COAST
Meanwhile, the U.S. Air Force sent a letter to North Dakota Senator John Hoeven stating: "The proposed project presents a significant threat to national security with both near-and long-term risks of significant impacts to our operations in the area."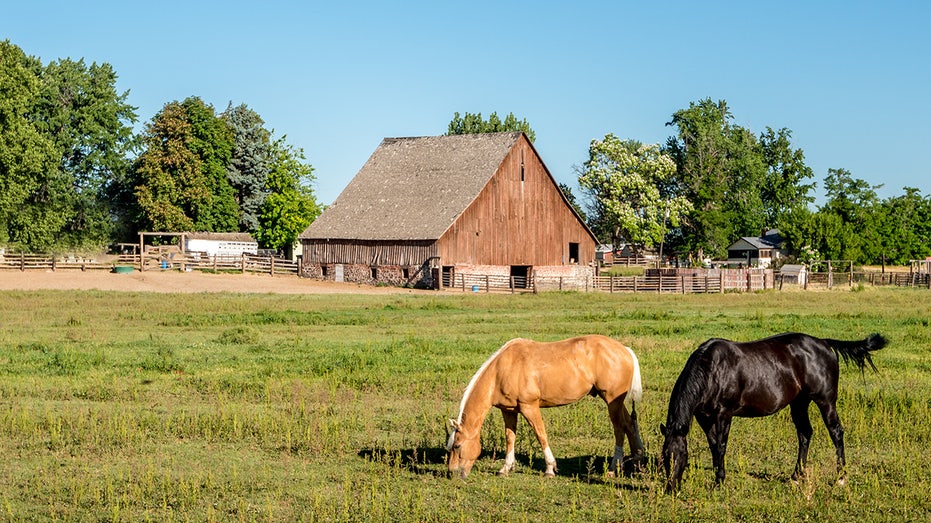 China owns more than 380 acres of U.S. farmland. (iStock / iStock)

SPY BALLOON LIKELY SENT EXTENSIVE INTELLIGENCE TO CHINA, EXPERTS SAY

Pillsbury reacted to the "chilling" message, saying: "A letter doesn't stop anything."

"That's not the way policy is made… There has to be legal action taken. It has become a crime, for example, to do some of the things that are being done to help China in our country. There's no sign that's happening at all. That's what concerns me the most," he stressed. 

Former Trump deputy national security adviser KT McFarland also called for regulations over the issue that she believes is being solved at "our expense."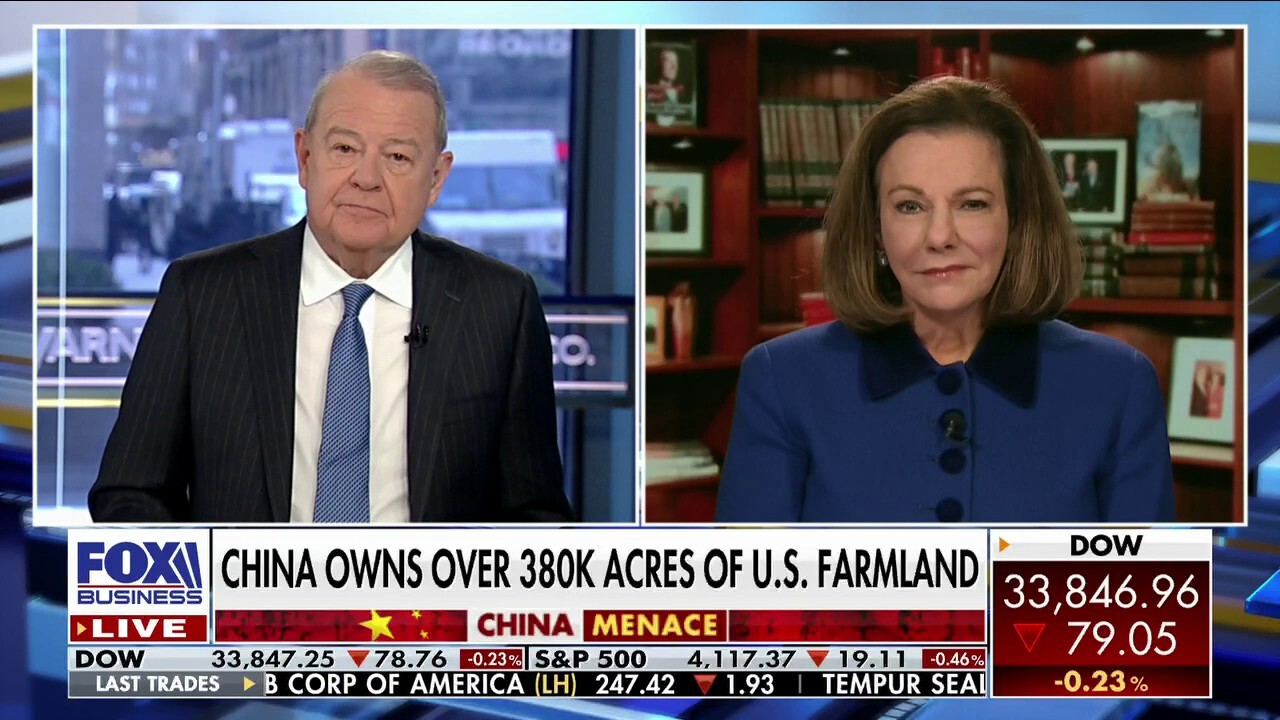 video
China is fixing their food insecurity problem at 'our expense': KT McFarland
Former Trump Deputy National Security Adviser KT McFarland reacts to China owning over 380,000 acres of farmland close by U.S. military bases on 'Varney & Co.'

"There should be national legislation. There should be state legislation. They should not be allowed to scoop up American farmland, especially near critical military facilities," McFarland said on "Varney & Co.," Monday.

GET FOX BUSINESS ON THE GO BY CLICKING HERE

Source: Read Full Article