Yellen rejects minting $1T platinum coin to avoid US debt ceiling as a 'gimmick'
video
Debt ceiling never gets handled until the last minute: Ken Fisher
Fisher Investments founder and chairman Ken Fisher discusses Congress' handling of the debt ceiling and recession fears.
Treasury Secretary Janet Yellen dismissed the idea of minting a $1 trillion platinum coin to keep the U.S. from defaulting on the national debt as a "gimmick" that the Federal Reserve is unlikely to go along with, dealing a blow to advocates' hopes of using it as an end-run around Congress amid the debt limit debate.
Progressive economists and some Democratic lawmakers have pushed for the Treasury to mint a $1 trillion platinum coin and deposit it at the Federal Reserve to raise the debt ceiling, then use the headroom created by the maneuver to fund more government spending. It would utilize a legal loophole that allows the Treasury to mint platinum coins of any denomination.
"It truly is not by any means to be taken as a given that the Fed would do it, and I think especially with something that's a gimmick," Yellen told the Wall Street Journal in an interview on Sunday. "The Fed is not required to accept it, there's no requirement on the part of the Fed. It's up to them what to do."
US DEBT CEILING FORCES TREASURY INTO 'EXTRAORDINARY MEASURES'
U.S. Treasury Secretary Janet Yellen attends a bilateral meeting with China's Vice-Premier Liu He, in Zurich, Switzerland on Wednesday, Jan. 18, 2023.  ((Michael Buholzer/Keystone via AP) / AP Newsroom)

Yellen – who served as chair of the Federal Reserve for four years from 2014 to 2018 – made the remarks after the U.S. reached its debt limit on Thursday which prompted the Treasury Dept. to begin using "extraordinary measures" that give Congress until at least early June to raise the debt limit.

Her opposition to the push to mint a $1 trillion coin is unlikely to come as a surprise: During a previous debt limit standoff in 2021, Yellen discussed the idea of minting a $1 trillion coin and said, "I don't think we should take it seriously." 

LOOMING DEBT CEILING SHOWDOWN RISKS TRIGGERING 'SELF-INFLICTED' RECESSION FOR US ECONOMY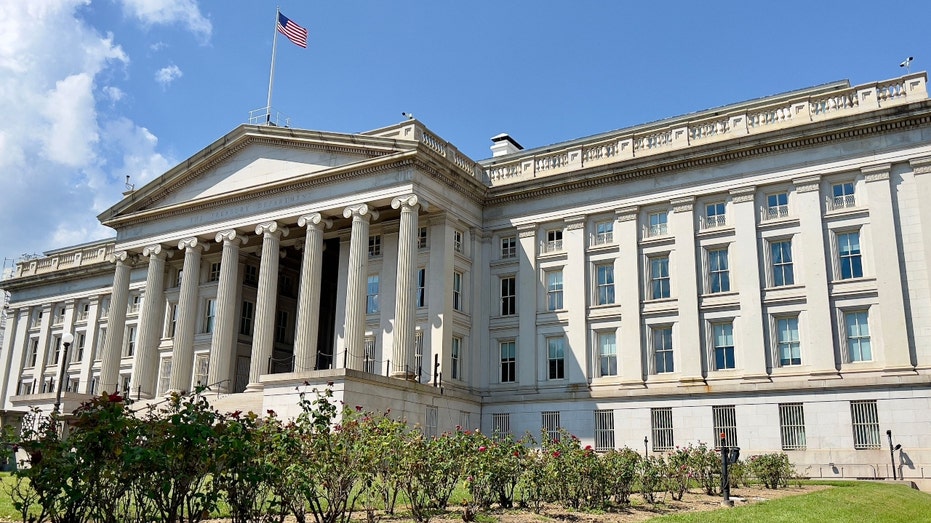 The Department of the Treasury building is seen in Washington, DC, on August 29, 2022. ((Photo by DANIEL SLIM/AFP via Getty Images) / Getty Images)

The White House has joined Yellen in pushing back on calls to mint the coin, as Press Secretary Karine Jean-Pierre told reporters earlier this month that "we're not considering any measures that would go around Congress."

While the idea is often floated as a way to skirt gridlock in Congress during impasses over the debt limit, it has also been suggested as a means of funding broad spending plans. Progressive Rep. Rashida Tlaib (D-Mich.) previously proposed a bill to mint $2 trillion worth of platinum coins to fund recurring monthly stimulus payments during the COVID-19 pandemic.

BUDGET CAP BATTLE BREWING BETWEEN GOP, DEMS AS DEBT LIMIT LOOMS
FILE – This May 4, 2021, file photo shows the Federal Reserve building in Washington. (AP Photo/Patrick Semansky, File / Associated Press)

Although the Federal Reserve hasn't weighed in on the merits of the idea, the central bank has long tried to keep its efforts focused on monetary policy and shied away from interjecting itself into matters of fiscal policy that are ordinarily handled by Congress and the president. 

Critics of the plan to mint the $1 trillion coin note that it would further fuel inflation by injecting additional fiscal stimulus into the economy. It could also spark concern in bond markets as participants begin to doubt the ability of the U.S. government to address its fiscal issues and make payments on the debt. That, in turn, could cause interest rates to rise and hurt areas of the economy that rely on financing such as the housing markets, while also raising the government's cost of servicing its existing debt.

GET FOX BUSINESS ON THE GO BY CLICKING HERE

With the $1 trillion coin likely off the table, lawmakers in Congress will have to reach a bipartisan compromise with the Biden administration to address the debt limit before the Treasury's extraordinary measures run out this summer.

Source: Read Full Article