SHIB: Latest Shiba Inu Update Could Be A Game Changer
Shiba Inu (SHIB) experienced a decline in social dominance over the past week, indicating a decrease in popularity for the meme coin. Despite being oversold based on its Relative Strength Index (RSI), other indicators were bearish, suggesting a potential further decline in price. 
However, SHIB has a history of responding rapidly to updates within its ecosystem, and a forthcoming Shibarium update could potentially reverse the downward trend.
With the release of the Shibarium update, there may be a potential opportunity for the coin to regain its footing and improve its market performance.
Shiba Inu's Shibarium Update Makes Progress
In a tweet, Shiba Inu-focused account Lucie unveiled new details about the much-anticipated Shibarium update for Shiba Inu. According to the tweet, the Shiba Inu team is currently working on implementing VOR and OoO on the Shibarium beta testnet. The next step will be to deploy the 0o0 and VOR Router smart contracts on Shibarium Layer 2 and then activate the Oracle applications to fulfill data requests.
#ShibariumBETA UPDATE May 2023
OoO& VOR Deployment on Shibarium testnet
"We are currently in the process of deploying both VOR and OoO on Shibarium beta testnet.
To date, we have deployed the FUND Test token on Shibarium beta testnet, and have successfully bridged L1 to L2. We… pic.twitter.com/CWwgC4j0ht
— 𝐋𝐔𝐂𝐈𝐄 (@LucieSHIB) May 10, 2023
Furthermore, the team has made headway in transferring FUND test tokens between L1 (Goerli) and L2, which is a significant development. As of now, the FUND Test token has been deployed on the Shibarium beta testnet, and L1 has been successfully bridged to L2.
SHIB market cap inches lower at $5.11 billion. Chart: TradingView.com
This update indicates that the Shibarium project is making steady progress towards its launch. With the deployment of smart contracts and the successful transfer of test tokens, the team is one step closer to bringing the full potential of the Shibarium to the Shiba Inu ecosystem.
Shiba Inu Price Reaction
Investors and analysts had hoped that the Shibarium update would provide the much-needed boost to Shiba Inu's market performance. However, it appears that the market sentiment towards SHIB has not changed, and the downward trend in its value has persisted.
Shiba Inu suffered a decline not just in its price but also in its popularity within the crypto space, as evidenced by its dwindling social dominance.
According to data from CryptoQuant, SHIB's exchange reserve has also been on the decline, suggesting that the token is not currently under any significant selling pressure.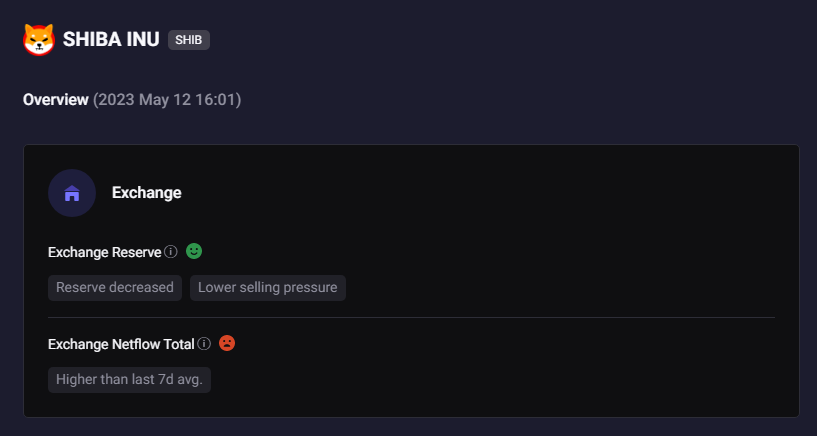 Source: CryptoQuant
Related Reading: Render (RNDR) Poised To Weather Market Storm With Solid AI Prospects
Meanwhle, Shiba Inu's value, as per CoinGecko, currently stands at a modest $0.00000865, marking a 2.5% drop in the past 24 hours and a 13.3% decrease over the last seven days.

Source: Coingecko
-Featured image from Analytics Insight
Source: Read Full Article