Litecoin Surpasses $90, But This Level Remains Crucial For The Altcoin
Despite the prevailing selling pressure in the cryptocurrency market, Litecoin has emerged as a standout performer. While the past 24 hours have not witnessed significant movement in the LTC price, the weekly chart reveals an appreciation of nearly 4%.
A significant breakthrough occurred as Litecoin surpassed the crucial $90 price level, signaling a positive shift in its price. Technical analysis suggests that the bulls hold sway over the price action, with demand and accumulation indicators displaying positive signals on the daily chart.
Most altcoins, including Litecoin, have exhibited similar price patterns influenced by the fluctuations of Bitcoin. Therefore, sustaining the LTC price above the $90 mark will depend on the overall strength of the broader market. Should Bitcoin reclaim the $27,000 zone, it could pave the way for Litecoin to overcome its significant overhead resistance in subsequent trading sessions.
While buyers of LTC currently maintain a favorable position, it is important to note that a slight push from the bears could potentially drive the price below $90, prompting bearish activity. However, the increased market capitalization of Litecoin in the recent session suggests that buyers are currently in control.
Litecoin Price Analysis: One-Day Chart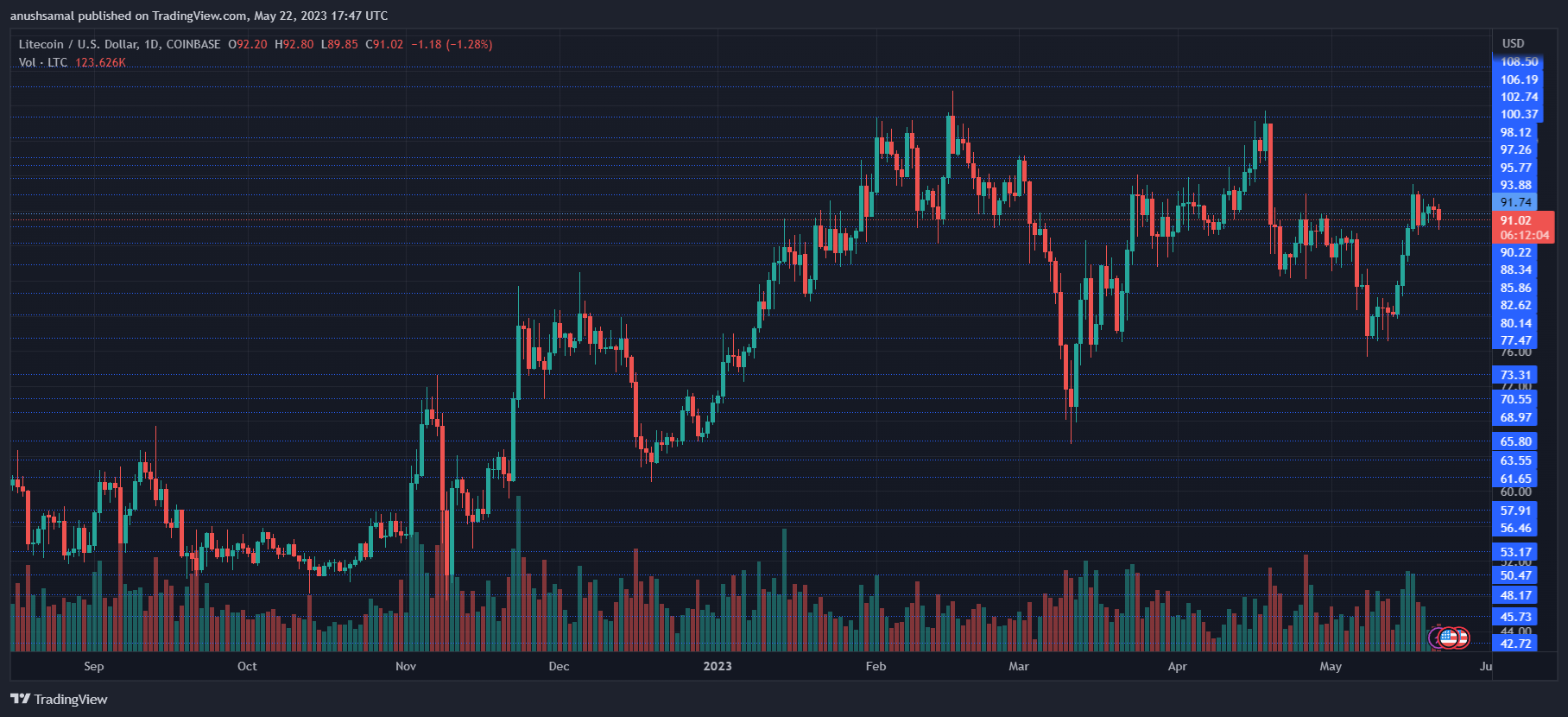 At the time of writing, Litecoin (LTC) was valued at $91.02. The altcoin's successful move above the $90 threshold has strengthened the bulls, who are now pushing prices even higher.
However, a formidable barrier stands at $92.8. Surmounting this resistance level could potentially propel LTC toward the $97 mark.
Conversely, declining the current price level would push the altcoin below $90. Should this occur, support might be found at around $86. The recent session's trading volume of LTC was positive (green), indicating a growing demand for the coin.
Technical Analysis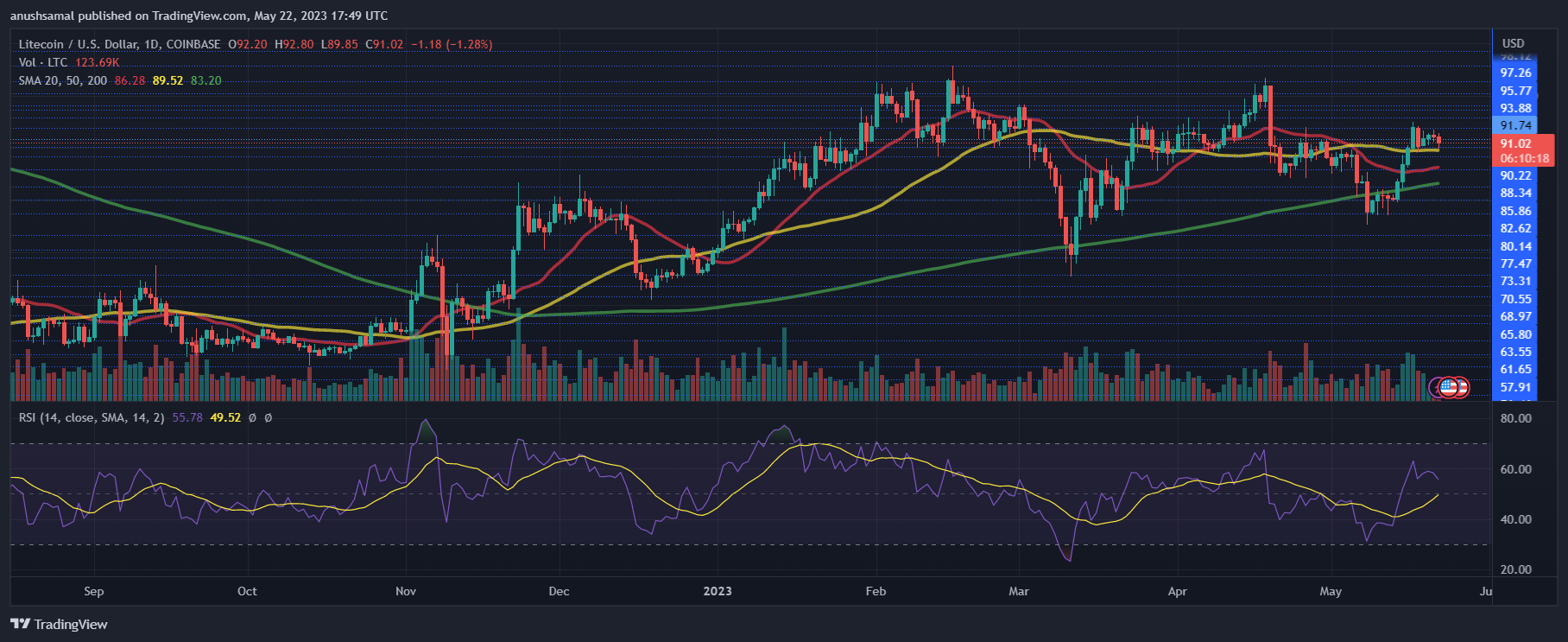 Buyers have displayed consistent confidence in Litecoin (LTC) as the asset's price has improved. This positive sentiment is reflected in the Relative Strength Index (RSI), positioned above the half-line and just below the 60 mark.
This indicates more buyers than sellers, reinforcing the optimistic outlook. Moreover, LTC's price remains above the 20-Simple Moving Average (SMA) line, indicating that buyers are driving the market's momentum.
Additionally, LTC has managed to stay above the 50-SMA (yellow) and the 200-SMA (green) lines, pointing towards increased demand for the asset.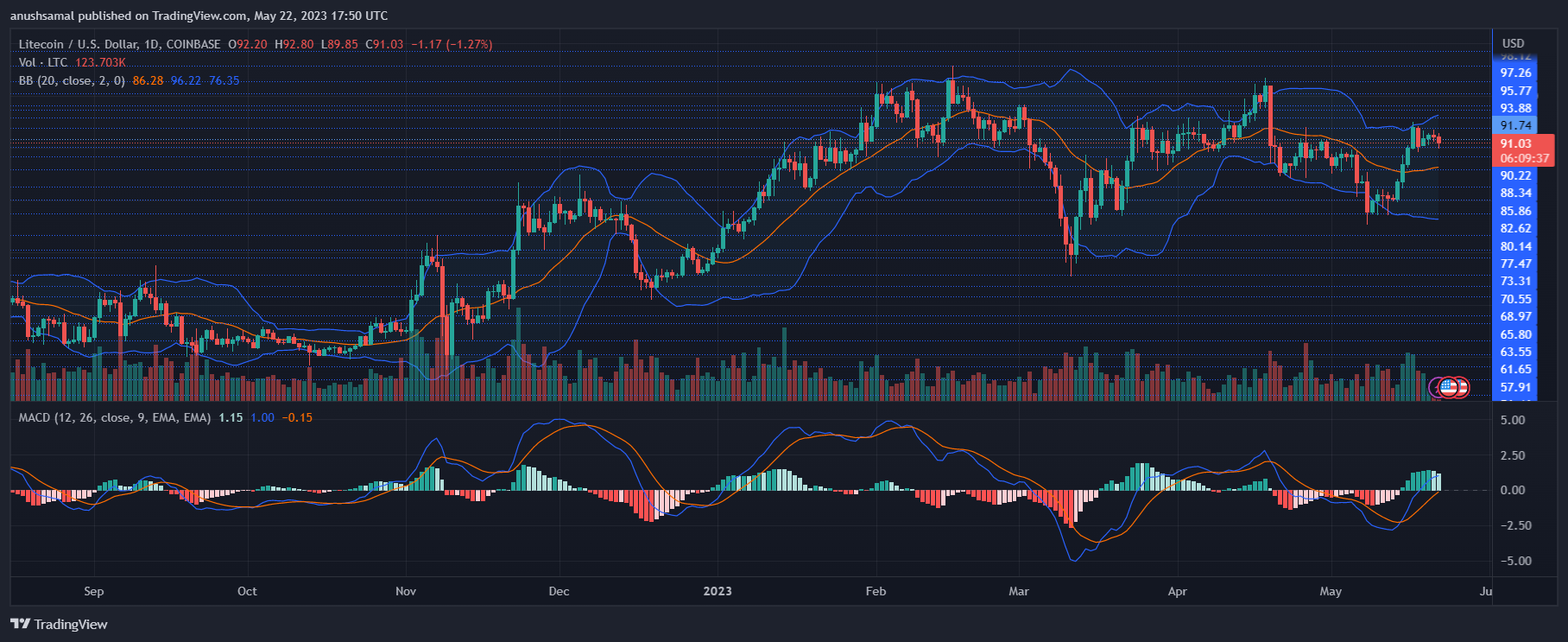 Litecoin (LTC) demonstrated buy signals alongside other technical indicators, suggesting favorable market conditions. The Moving Average Convergence Divergence (MACD) revealed the formation of green signal bars, indicating positive momentum and a bullish trend.
Furthermore, the Bollinger Bands, a volatility indicator, displayed wide bands, indicating increased price volatility and fluctuation. This implies that LTC is unlikely to trade within a narrow price range, as there is potential for significant price swings.
Source: Read Full Article