Binance Coin Drops Below $210, BNB Bridge Hacker In Trouble
In a complex tangle of smart contracts, governance proposals, and fluctuating crypto prices, the financial health rate of the infamous Binance BNB Bridge exploiter address (0x48…9bec) has fallen below the critical value of 1, hovering at 0.99. This development is of particular interest, given that the address holds a significant collateral of 784,616.10 BNB and a debt position in the form of USDT and USDC totaling $124 million.
The plummeting health rate comes amidst the fall of Binance Coin (BNB) to $207.9, well below the pre-determined liquidation price of $210.80, leading to increased speculation about potential liquidation scenarios.
As per a tweet from blockchain security firm PeckShield: "The health rate of the BNB Bridge Exploiter on Venus is 0.99. BNB has dropped to $207.9. The Venus community has passed a governance proposal to whitelist liquidation of the BNB Bridge exploiter's position before."
Liquidation Contingency: The Binance Plan
He Yi, the co-founder of Binance, alleviated some concerns stating, "The BNB collateral of Venus is covered by Binance. When the price of BNB falls, Binance will liquidate it in time. These BNB will not affect the secondary market price, and Binance will be responsible for burning these additional BNB."
Nevertheless, the crypto community and analysts alike are closely following the situation, speculating on whether Binance CEO Changpeng Zhao, commonly known as CZ, intends to execute the liquidation to remove the illegitimate BNB from the ecosystem.
Renowned analyst Skew remarked regarding the currently ongoing price movements: ""BNB Shorts going at it again + -24% APR (24hr). BNB Aggregate CVDs show takers are net sellers on the day so far. BNB Binance Spot: Quite a lot of spot bids below down to $200, so there will need to be a frenzy of spot selling in order to cause price dislocation or a crash. Large limit buyer has been trying to absorb the sell pressure."
Crypto influencer MartyParty brought this hypothesis into the limelight, stating, "Is CZ trying to liquidate the Venus loan to burn the 900k illegal BNB? Based on the Venus protocol documentation, the loan would have to be liquidated to burn the illegal BNB. That is the only way to remove it from the ecosystem."
This liquidity and governance issue comes after an "exploiter" illegally minted 2 million $BNB through a vulnerability in BNB Bridge, which has since been repaired. Of this illegally minted BNB, 900,000 BNB was used as collateral on Venus Protocol to obtain a loan exceeding $150 million in stablecoins, which was then dispersed across multiple blockchains.
On June 12, 2023, a potential liquidation was averted when Binance stepped in to add $30 million in USDT margin, bringing the liquidation price down to $212. Again on August 17, another liquidation was sidestepped, pulling the liquidation threshold down to $210.80 and consequently the health rate to 1.02.
In an earlier reaction to MartyParty's query, CZ seemed unfazed: "Took me a while to understand (IF I even vaguely understand now). So, Marty is worried about a $30-120m worth re-buy of #BNB? Maybe he should check the last BNB burn? or the #SAFU insurance fund size?"
He also commented on the volatility of BNB, adding, "And where did the $212 magic number come from? #BNB price is determined by the market. A $30m re-buy is less than 4% of a single day's volume."
As of this writing, the market is still uncertain, waiting for further signals from CZ, who hasn't commented on the latest developments. Meanwhile, Arkham Intelligence's dashboard remains a focal point for real-time updates on the loan status and the health rate of the exploiter's account. At press time, no liquidation took place yet.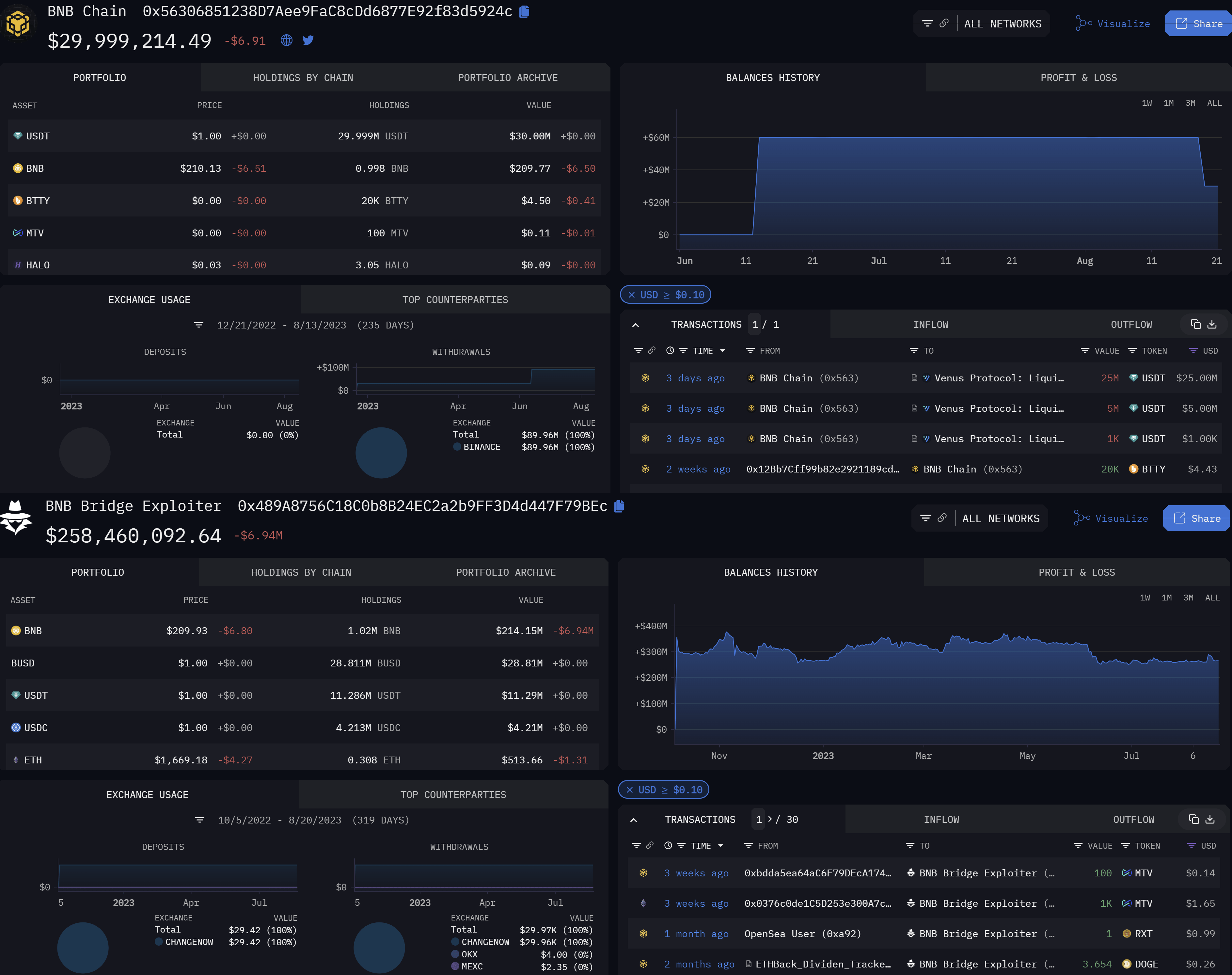 At press time, the BNB price was at $210.5.

Source: Read Full Article