'Volume of AI Deals Is Growing Massively'
'There is not one discussion with a client without a discussion around AI. They all have it on their mind.'
Wipro recently said it would invest $1 billion in artificial intelligence over the next 3 years as clients are increasingly betting on this technology.
The IT major is also strengthening its consulting practice.
Thierry Delaporte, MD and CEO, Wipro, talks about the demand environment, focus on consulting, and AI-led deals, in an online interview with Ayushman Baruah.
Going forward into Q2 and beyond, are you seeing any progress in clients' decision-making cycle?
In terms of trend, it is quite stable.
I am not seeing a change in the pattern for Q2 versus Q1.
I think we are in a similar market of uncertainty but there is no further deterioration as such.
Our revenue growth guidance of -2 per cent to +1 per cent means that the environment is improving from the previous quarter but I cannot say if the change is sustainable.
Can you briefly explain the need to change the organisational structure to four global business lines (GBLs) from two?
After about 30 years, we changed the organisation to a matrix with market needs on one side and our global business lines on the other.
We have gone with this model for about two-and-a-half years.
It was the first time in Wipro's history that we were building such a model.
I felt that I needed to keep this model extremely simple with only two global businesses.
Since this model was launched in January 2021 with two global business lines, they have seen unprecedented growth and become very big.
Also, our market has become a lot more mature.
So, it was the right moment for us to split those two GBLs into four that are of the right size.
Wipro FullStride Cloud, Wipro Enterprise Futuring, Wipro Engineering Edge, and Wipro Consulting reflect the four key priorities for us.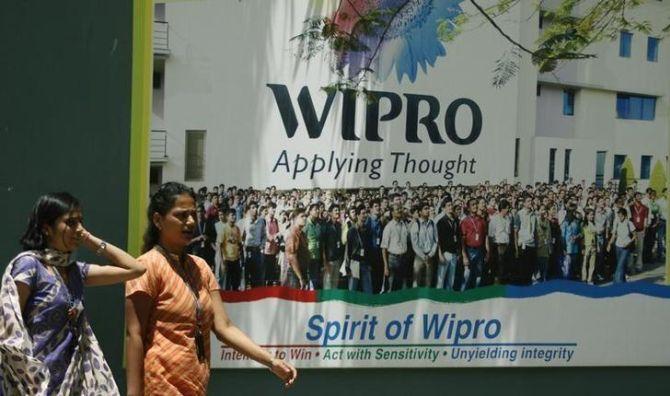 Does the new model mean a greater focus on consulting?
Yes, consulting is key if you want to really have a strategic discussion with your clients.
If you want to be able to build complex end-to-end transformation deals, consulting capabilities are required.
We have had very strong growth in our consulting business over the past few years.
We have also made acquisitions like Capco, Rizing, and Edgile in the security space, Convergence Acceleration Solutions in the communication space, and others. We will continue to do so.
How does your large deals pipeline look and do you see an uptick in AI-led deals?
Yes, we look at our pipeline: The volume of AI-led deals is just massively growing.
There is not one discussion with a client without a discussion around AI. They all have it on their mind.
Clients may either need help to define their own AI strategy or understand their progress in that area or develop some POC (proof-of-concept) or actually implement certain solutions.
Coming to large deals, Wipro was barely in this space about three years ago. But in the past three years, we have developed a team for big deals with people who can shape such deals.
We are working with account executives to be more proactive and go to clients with some transformational ideas. That has led to the building of a strong pipeline of large deals.
What will be your acquisition strategy this financial year?
Our strategy remains the same as what we defined back in October 2020.
Acquisitions are one part of our strategy. It comes as a result of strategic intent.
So, when we go for an acquisition, it will not be a volume play, it will not be just to gain scale, it will have a strategic play, which may be from a market standpoint or from an industry standpoint, or from a technology standpoint.
That is how we have gone after the 12 acquisitions we have made in the past three years.
We will continue to do so as and when we identify a company that represents a great addition to our business.
It may be large or small, but there is no limitation in terms of scale. But I have no commitment either to the board or to the market to have a certain percentage of revenue coming from acquisition every year.
It is based on what makes sense and what opportunity we can identify.
Feature Presentation: Rajesh Alva/Rediff.com
Source: Read Full Article