Rajya Sabha passes Multi-State Cooperative Societies (Amendment) Bill
The Rajya Sabha on Tuesday gave its green light to the Multi-State Cooperative Societies (Amendment) Bill 2023.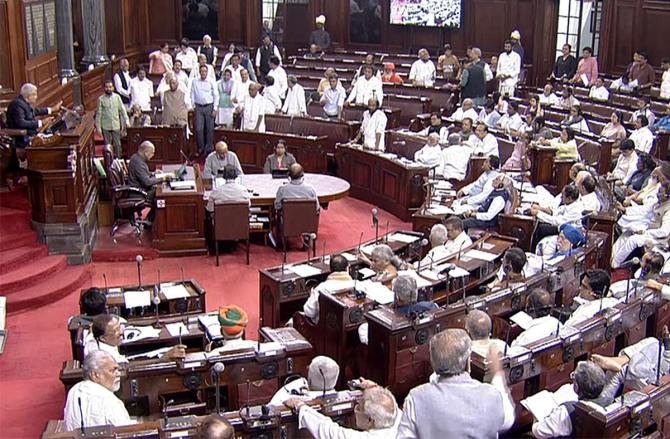 This Bill introduces significant amendments to the Multi-State Cooperative Societies (MSCS) Act.
These modifications aim to enhance the transparency and accountability of these cooperatives' operations in a bid to improve governance.
The MSCS Act has not seen changes since 2002, making these updates noteworthy.
The Lok Sabha had previously approved the Bill.
India is home to around 1,500 multi-state cooperative societies and the majority of them are in Maharashtra.
Credit societies constitute a majority of these multi-state cooperatives.
One of the key provisions in the amendments empowers the Centre to suspend a MSCS Board if it fails to meet within a prescribed time frame.
The Union government also establishes a process for the liquidation of such cooperatives.
To improve multi-state cooperative societies' governance, the Bill includes provisions for the creation of a cooperative election authority, cooperative information officer, and a cooperative ombudsman.
The election authority will ensure that elections are conducted in a fair, free, and timely manner, thus reducing complaints and malpractices.
Furthermore, the Bill includes a provision to disqualify offenders from elections for three years, enhancing electoral discipline.
The ombudsman will establish a structured system for member grievance redressal.
And, the cooperative information officers will improve transparency by providing members with timely access to information.
For ease of doing business, the amended Bill proposes a reduction in the registration period.
It allows applicants to seek an additional two months to rectify errors.
The Bill also promotes a comprehensive digital ecosystem through the provision for electronic submission and issuance of documents.
The amendment introduces a provision for the issuance of non-voting shares in MSCS, aiding in fund-raising.
It also proposes the creation of a rehabilitation, reconstruction, and development fund to rejuvenate struggling cooperative societies.
The Bill also bans the appointment of related persons, enhancing transparency and implementing a system of regular elections.
Minister of State B L Verma presented the Multi-State Cooperative Societies (Amendment) Bill, 2023, for consideration and passage in the Rajya Sabha.
In response to enquiries about the Bill, Verma asserted that it includes standards for employee appointments, effectively preventing nepotism.
He said that the cooperative sector's progressive role is essential for India to become a $5-trillion economy.
Source: Read Full Article