Macro uncertainties may keep IT hiring in slow lane this fiscal year
India's information technology (IT) sector will witness subdued hiring in 2023-24 as macro uncertainties impact demand environment, with clients either taking a pause on spend or stopping discretionary spend, say human resource experts.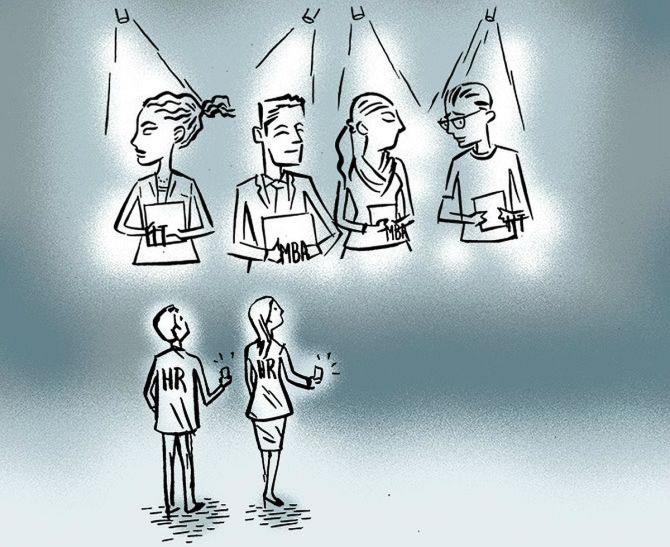 To begin with, unlike earlier years, the three large IT players TCS, HCLTech, and Wipro have not provided any new hiring targets for the financial year.
And Wipro has said that its hiring target will depend on the demand environment.
According to HR experts, students graduating in the academic year 2023 will find it difficult to land a job.
Tata Consultancy Services (TCS), which traditionally has been hiring aggressively, saw a nominal increase in headcount, adding 523 employees in the first quarter of FY24.
In Q4, TCS saw a net addition of 821 employees.
Q1 FY23 is the lowest Q1 hiring quarters witnessed in the last four years.
The only aberration was in Q1 FY21, when there was a net decline of 4,788.
Similarly, in the case of the third largest IT services firm HCLTech, Q1 FY24 saw a net decline of 2,506 employees.
Even during the pandemic quarter, the company saw a net fall of 100 employees.
Wipro had a net decline of 8,812 people in Q1FY24.
This is the third consecutive quarter of decline in headcount.
Infosys, the second largest IT services company, which will announce its Q1 results on July 20, is yet to give its FY24 hiring targets.
"We do see a small revival in the IT services industry. However, the overall sentiment in the market is of 'no rush' because the overall market is subdued for hiring," said S Pasupathi, chief operating officer (COO), HirePro, a recruitment automation solutions provider.
When asked about the campus hiring scenario, Pasupathi said that the slowdown in businesses has impacted campus hiring in 2022, which would have ripple effects in 2023 as well.
"Because of the market scenario in 2022, the absorption of early talent spilled over to 2023.
"This means for the 2024 batch the hiring process that starts in July-August might be delayed by a couple of months," he explained.
This is also evident from the comments made by TCS chief human resources officer (CHRO) Milind Lakkad.
When asked if the company will rethink its hiring targets for FY24, which is at 40,000 he said: "The hiring target remains the same. But how it (onboarding) gets played out over the year will depend on the business situation."
It is this uncertainty, which is making companies not to give a sharp commentary on hiring.
Wipro in its Q1 FY24 media briefing said that its hiring will depend on the current business environment.
Indian IT services fresher hiring and onboarding typically happens over a period of 18 months.
Companies visit campuses between July/August-September of a year and give offers to students who join the next year and onboarding goes on till December.
Post the global uncertainty, off-campus hiring for 2022 and 2023 has been subdued.
"The students who graduate in 2023 will have the toughest time, because their placement which started in 2022, the market was not good and even as they graduate now the market is not great," Pasupathi explained.
This uncertainty in hiring persists, even as attrition at companies have also fallen.
Attrition in TCS has come down sharply to 17.8 per cent for Q1, compared to 20 per cent in Q4FY23.
Similarly, in case of HCL Tech, attrition came down to 16.3 per cent in Q1 FY24 from 19.5 per cent in Q4FY24 and 23.8 per cent in Q1FY23.
At Wipro attrition went down from 19.4 per cent in Q4FY23 to 17.3 per cent in Q1FY24.
However, the only silver lining is lateral hiring, which has seen a slight revival.
"Overall, the hiring outlook in the IT sector for Q2 FY24 is expected to be cautious yet strategic.
"While hiring volumes may remain relatively muted, organisations will focus on optimising existing talent, strategically acquiring specialised skill sets, and embracing emerging technologies," said Sachin Alug, CEO, NLB Services.
"Organisations are likely to prioritise hiring for critical positions and specialised skill sets that align with their growth strategies and the evolving needs of their clients," he added.
Source: Read Full Article