HDFC Bank to continue opening branches at same speed in FY24 as last year
After opening close to 1,500 branches in 2022-23, HDFC Bank, the country's largest private sector lender, will continue expanding its branch network at the same speed in the current financial year.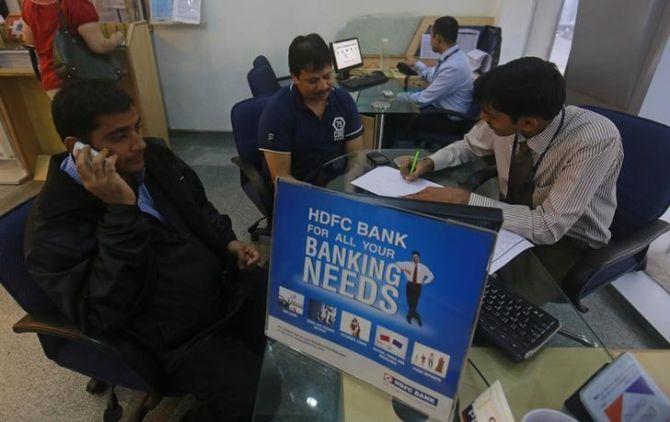 The lender says branch expansion is crucial for deposit mobilisation.
As of March 31, 2023, HDFC Bank had 7,821 branches, up from 6,342 a year ago.
The lender has added 2,850 branches since March 2019.
"For FY24, we expect to continue adding branches at the speed at which we have done over the last 15-18 months," the bank's chief financial officer (CFO) Srinivasan Vaidyanathan told analysts during the post earnings conference call that during FY24, the lender expects to continue adding branches "at the speed at which we have done over the last 15-18 months".
Branch opening has helped the lender to mobilise deposits.
HDFC Bank garnered Rs 1.5 trillion in deposits during the January-March quarter of FY23.
It exceeded its target of garnering Rs 1 trillion in deposits in a quarter for the first time since it announced its merger with HDFC last April.
The bank's total deposit base is Rs 18.88 trillion.
What drove the performance? Surely, HDFC Bank's deposit rates aren't the highest in the industry.
Vaidyanathan says a bank needs to leverage the branch network and brand to bring in new customers — a key for deposit mobilisation.
"Like branch maturity, there is also customer maturity. Customer maturity takes about 24 months.
"We need to harvest the customer's potential to become the primary bank and get the balances.
"It is about getting the (same) potential of the customer that you got two years ago," he said.
In FY23, the bank added 10.5 million liability (deposit-holding) customers.
"We have a long way to go to increase that penetration and we will be relentless in getting the full relationship of the customer through this," he said.
HDFC Bank saw 19.8 per cent year-on rise in net profit to Rs 12,047 crore, on the back of strong loan growth in its fourth quarter results.
The lender said it has applied to the stock market and the insurance regulators for their nod of its merger with HDFC, as there will be ownership changes.
HDFC Bank expects the merger to happen in July.
Last month, the National Company Law Tribunal (NCLT) approved the merger.
"We have applied to Sebi (Securities & Exchange Board of India) as there have been changes in promoter profiles, and for giving notices to mutual fund holders…We have also approached Irdai (Insurance Regulatory and Development Authority of India) to make changes on the promoter side.
"We are awaiting their nod," he said.
"Once all of these are there, we circle back to RBI to get to the final stages which we think from a timing point of view …is June-July — possibly July is the time frame as we speak given where we are on various things," he added.
Source: Read Full Article