Eddie Obeid, son Moses, and Ian Macdonald get bail despite flight risk concerns
Despite being deemed an unacceptable "flight risk", the recently-convicted former Labor ministers Ian Macdonald and Eddie Obeid, along with Obeid's son Moses, have been granted bail until their sentencing in September.
Eddie Obeid (left), Ian Macdonald and Moses Obeid (right). Credit:Renee Nowytarger
Crown Prosecutor Rebekah Rodger had argued that the three should be denied bail as there was a concern they would flee the country.
Justice Elizabeth Fullerton said that said she accepted that the likelihood of the men being sentenced to a term of imprisonment increases the impetus to breach their bail conditions.
She noted that none of the offenders "are in possession of a passport" and that there were current restrictions on both interstate and overseas travel.
What "credible evidence" did the Crown have that the three men posed an unacceptable risk of leaving the jurisdiction, the judge asked.
Ms Rodger said she accepted that it would be difficult to leave the country legally. It was whether "it could be arranged illegally" that was of concern, she said.
Justice Elizabeth Fullerton presided over the criminal trial of two former Labor ministers, Ian Macdonald and Eddie Obeid, and Obeid's son Moses. Credit:
Justice Fullerton declined to order the men to be taken into custody pending their two-day sentence hearing on 8 September. Instead, she ordered each of them to what is effectively home detention. They are not allowed to leave the house except for medical or legal appointments. They are also required to report by phone to the officer in charge at their local police station three times a week.
They will also be subject to spot checks between 10pm and 5am to make sure they are in their respective homes.
Earlier this week Justice Fullerton found that the former mining ministers Macdonald, 72, and Eddie Obeid, 77, and Obeid's son Moses, 52, were guilty over their roles in the crooked tender.
During the year-long trial, the Crown alleged that ­between September 2007 and January 2009, Macdonald provided the Obeids with "inside information" that gave them the running on who would win a coal exploration over their property Cherrydale Park near Mount Penny in the Bylong Valley.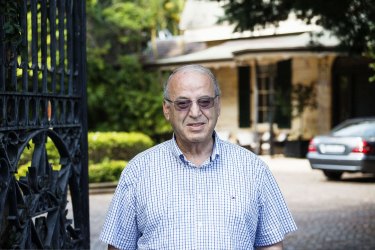 Disgraced former MP Eddie Obeid outside his Hunters Hill home in 2014.Credit:Christopher Pearce
Justice Fullerton found Macdonald had "knowingly breached" his ministerial obligations "for the improper purpose" of advancing the financial interests of the Obeids.
The three men participated in the hearing remotely. Macdonald was in his Blue Mountains home and Moses Obeid was at his barrister's chambers.
Eddie Obeid watched proceedings from a large armchair in his Hunters Hill home.
Passy, the family home, was sold for $11.5 million last October, with the Obeids then taking a year-long lease.
Most Viewed in National
From our partners
Source: Read Full Article