Bitcoin price struggles to stay above $730 in spite of large volumes
The increased trading volumes in BTC/USD markets in the last couple of days hasn't managed to keep selling pressure and resistance down. Substantial buy orders are suppressed by sell walls, and the price keeps dropping below the $730 level.
Major Signals
Volatility seems to be a major factor in the market today as volumes are up while resistance doesn't seem to be backing down.
Recovery from drops below $730 seemed swift yet a complete recovery seems unlikely as traders are having a hard time getting rid of the bearish market sentiment.
There might have been attempts for a breakthrough as we did see substantial buy orders shoot the price up to $732 only for equally large sell orders to counter them.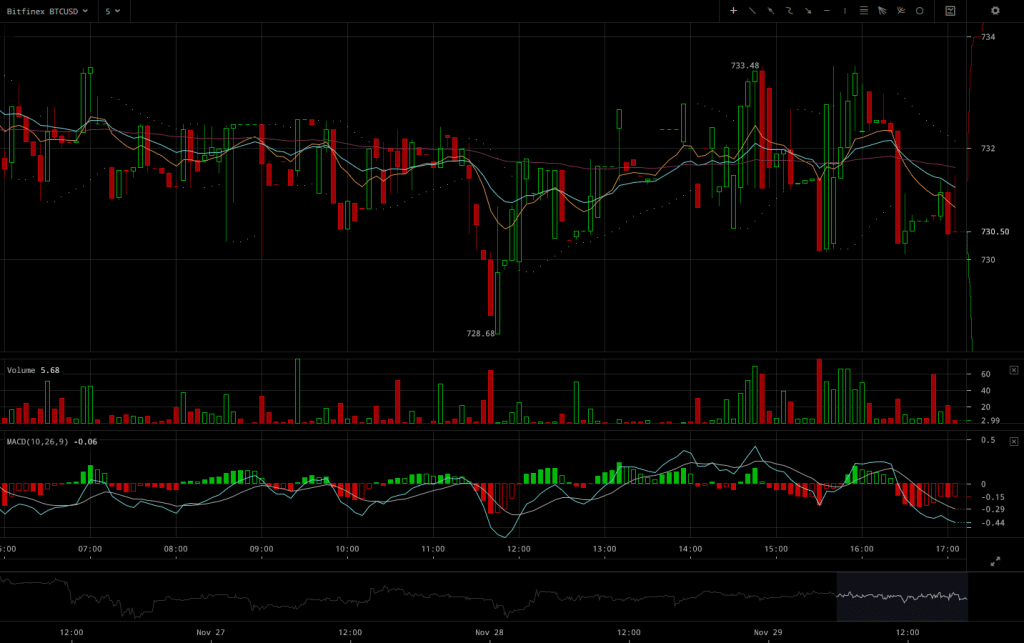 Volatility is currently the leading force in BTC/USD markets. As seen in the above Bitfinex BTC/USD chart, the market seems to be going wild. However, even with more money being poured into the market than any the previous days, BTC/USD seems to still be plagued by the sideways trend which began earlier this week.
Support levels seem to be forming around $725 but are seemingly weak compared to the resistance that's currently giving the bitcoin price a hard time whenever it pops above $730. And this is something that shouldn't come as a surprise; the current resistance level has been holding strong, on and off for almost half a week. Successfully breaking through it at this point would require a significant shift in market sentiment.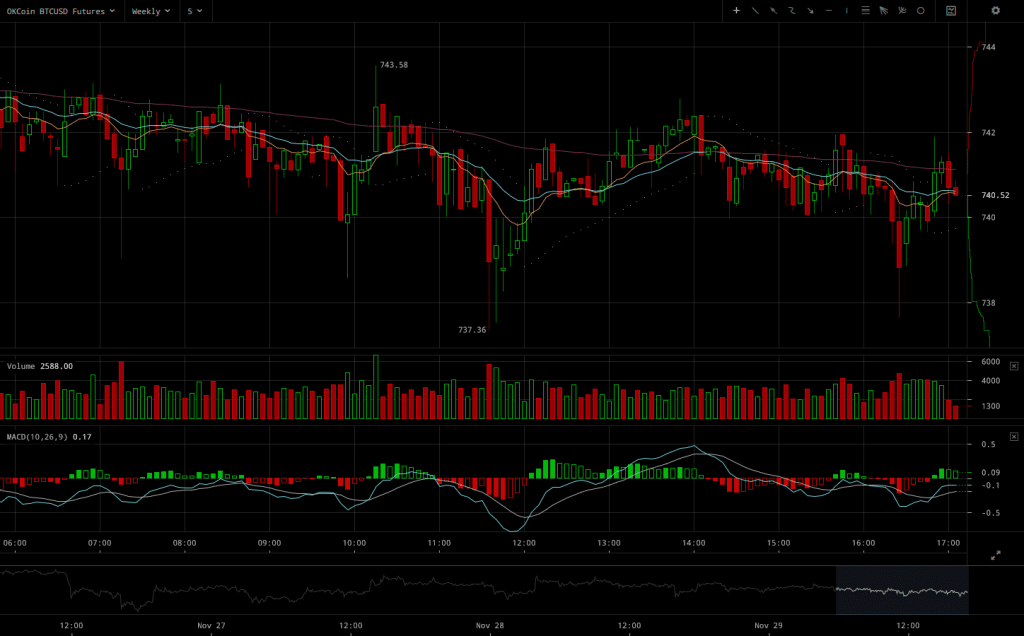 Futures markets, on the other hand, seem to be lead by a downtrend. As it becomes apparent in the above OKCoin BTC/USD weekly futures chart, traders must be expecting a further price fall following the sideways trend.
In retrospect, traders appear to have started becoming increasingly pessimistic after the past weekend. The hopes for a breakthrough were repeatedly smashed throughout what seems like a downtrend.
Overall, while a breakthrough keeps seeming more unlikely, it's also not completely out of the picture. It's not unexpected of bitcoin traders to be counting on a successful breakthrough, yet in the past few days could be breakthroughs received no follow up by the market, so the bearish market sentiment persists. But then again, traders at this point don't seem to be dissatisfied with a sideways trading market as this seems to be the trend continuing to dominate BTC/USD.
Source: Read Full Article