Bitcoin Price Goes up After Bullish Spikes
BTC/USD markets seem to have been experiencing a change in the market's sentiment over the last trading session. Whilst selling pressure doesn't seem to be going down, substantially large buy orders made the price spike upwardly, pushing the price up.
Major Signals
Large buy orders are managing to push the price up amid a setting of somewhat low trading volumes.
Bitcoin traders are taking well to this positive change by holding back on selling pressure for the time being.
Resistance seems to be taking shape at $940 levels but the market seems to have developed a great momentum.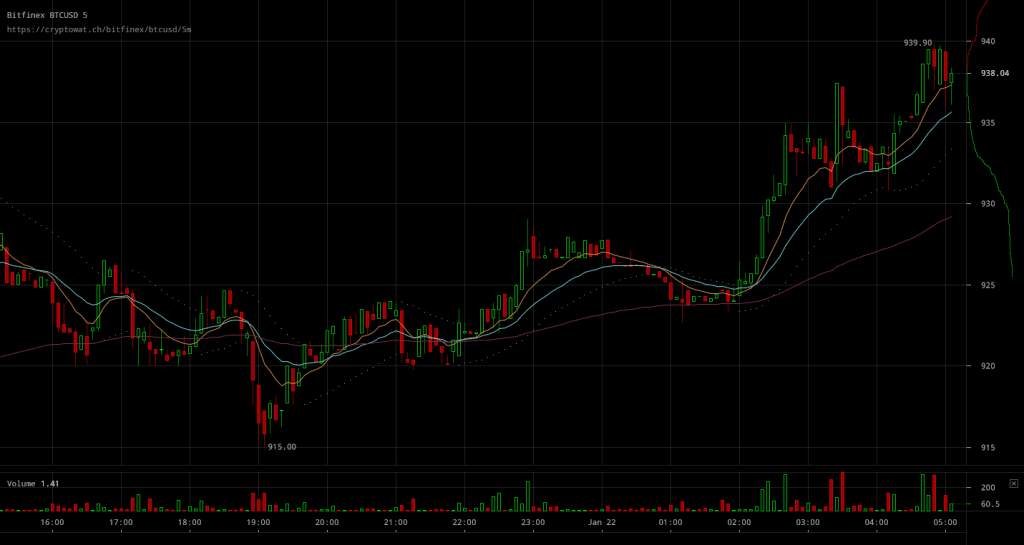 Bitfinex BTC/USD charts are indicative of how the previous upward spikes most probably affected the price's outlook positively. Whilst newly formed resistance was smashed, selling pressure also appears to be backing down. This goes to show that the market was ready to welcome some long awaited positivity.
The overall market reception doesn't seem particularly bullish but the fact that BTC/USD rates have remained above $900 for quite a decent amount of time following an extremely volatile trading session is quite telling. Traders are probably starting to believe in the market's potential to break through resistance and rise to greater levels; this time in a more "organic" way, given that the previous price rally is over.
Futures traders did what might have been unthinkable in previous trading sessions, by helping futures rates in surpassing live BTC/USD ones for the first time in almost a week's time. Upward price movements were so far exaggerated, with recent ones being even more greatly so. This positive development is indicative of how the market sentiment is slowly building up to a more positive outlook.
All in all, the recent overturn in the market's sentiment goes to show that traders were ready to welcome a more positive outlook. A price rise above resistance levels suddenly does not feel too unlikely amid such a market mood.
Source: Read Full Article
….