Bitcoin Price Breaks Through Resistance With Price Nearing $1100
BTC/USD rates were uplifted by bullish buy orders in the last few hours as the price reached close to $1100, breaking through identified resistance levels. The recent rise begun with the market adopting a more optimistic mood after a substantially large buy order pushed the price above the previous resistance level of $1070.
Major Signals
Bitcoin markets are currently adapting to the bullish overturn that back to back buy orders brought forth
After the top of was reached around $1097, bitcoin prices stopped rising, only to recover and keeps at prices above $1090
Resistance levels seem to have regained some strength as the market reached higher price levels but the market's current momentum could help surpassing it.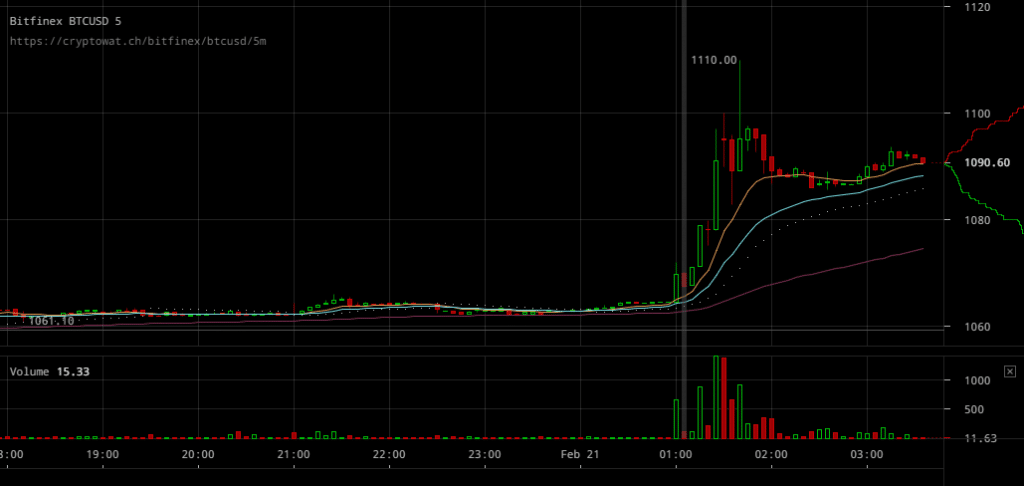 Bitfinex BTC/USD charts make the bullish reaction triggered by the break through resistance seem obvious. Traders were obviously expecting a positive overturn to cash into the market's reaction. This newly introduced wave of positivity has so far has a positive reception by the market and in spite of its size the price rise has not been dwarfed by the selling pressure that's still holding strong in bitcoin markets.
Futures markets remain conservative in their approach as to how this development could end up impacting prices in a longer term. Whilst the recent upward price spike has had a remarkably positive impact on futures rates, it still wasn't enough to pull them out of the negativity that was preoccupying them as the above OKCoin BTC/USD weekly futures chart indicates. Perhaps if support for such levels comes up futures traders would adopt the positive mood to a greater extent.
All in all, the fact that positive developments can still have a great reception and effect within the current market setting goes to show that the market's sentiment remains bullish. Hopefully bitcoin markets will show support for the newly reached price levels within the upcoming hours.
Source: Read Full Article