How Ties.Network aims to help you to find secure partners and make…
Ties.Network is a blockchain-based social platform that connects prospective business projects and reputable professionals such as developers, marketers, advisors and other relevant people in the ecosystem. It is a decentralised business tool that can be used to recruit partners, employees and volunteers. You can also sell products and services, enter joint deals based on smart contracts, finance projects among other possible uses.
To gain traction for their proposed solution Ties.Network they have also now launched their 'Testnet' to demonstrate the viability of the concept.
There is also a Yellow paper,  (detailed technical description of the concept) to explain in more detail about the initiative. This explains the technical parameters of the project. The aim is to demonstrate that the concept is viable and will work. The goal behind this is to dig deeper than would be possible simply by deciding to work with someone merely based on viewing their Linkedin profile for example.
We are definitely reaching the point where everyone has enough of an online presence that you can begin to assess if they are who they say they are. Whereas previous people may have had an online and offline persona, we are now moving towards the point where this is no longer the case, and your digital identity is your business facing profile. This is not to say that people will attempt to manipulate and distort possibly previous shady dealings. However, this is an area in which blockchain has the potential to shine, both in general, and specifically here in the case of people looking to build cryptocurrency partnerships. We are reaching a point where blockchain is maturing as a technology, and a potential solution to various business cases. In this context the Ties.Network could well be an early mover, and they are certainly hoping to gain traction on their platform, because, as with all platform based successes (Uber, Google, Netflix, Amazon) this will breed even more usage for their idea. If it works Ties.Network will be the go-to platform for secure and trusted deal making.
For those looking to get under the hood in terms of how they plan to achieve this safe harbour for validated digital identities, they explained how they plan to do this. It will be a business platform, running off an integrated public NoSQL database, called Ties.DB. You will then use this to search for relevant and appropriate professionals that you wish to collaborate with on business ventures. The site will also offer the ability to create and lodge smart business contracts, that cannot be tampered with by either side, due to the fact it will be running on the Ethereum blockchain based foundation. The search option will allow you to filter based on relevant criteria, and potential partners will have a rating level too. Much like Amazon buyers and sellers, and Uber drivers and passengers, there will be a clear incentive to rise to the top of your field. Especially as past transactions, contracts and agreements will all be written into the blockchain, immutable and unchangeable.  Smart contracts will also be an off the peg service offered to ideally promote fast and secure contracts once business deals have been arranged, rather than waiting weeks or months for lawyers to agree to everything. To complement this there is also the option to create project pages, to communicate clearly the current status of any project you are working on (for better or worse perhaps?).
Use the search and rating options 
This gives you the ability to search through professionals on the platform, looking for genuine, verified experts in relevant fields to your needs. On the Ties.Network platform business experts rating is evaluated based on actual transactions and deals that have already taken place and are written into the blockchain. This will make it harder to claim expertise where there is actually none documented.
How to create a smart contract and pay someone 
This video demonstrates how you can communicate with prospective partners and broker a deal. The Ties.Network will make it possible to securely link with industry leaders, and, when needed, make deals using the smart contracts option. In this video, you can see an example with an ETH (ether) payment taking place.
 Add a project page to explain what you are working on
You can use the platform to find new team members, and to explain what you are working on. Creating a project page for your idea will help you to communicate how the project is progressing. You can also create a project wallet to pay team members too. Your project page will also enable experts to evaluate your project, and to include relevant publications including white papers, Github code snippets and other proofs of concept and value. Investors will then also use this as a way to gauge how early stage or not the project is, and if it is something they want to invest in.
Ties.DB hopes to leverage the rising tide of more Ethereum based blockchain products coming onto the market. The aim is that Ties.DB will allow decentralised applications to store data in a quickly searchable way. be a logical and complementary asset that works hand in hand with Ties.Network as both grow. Ties.Network is a decentralised application, which will be the first to use the advantages of the Ties.DB, with the aim  of then allowing the entire market to benefit from these advantages in the future. They have produced a roadmap which aims to illustrate where they aim to be over the next 12 months and Ties.Network will be doing the first round of their Token Generation Event on September 21st, 2017. It will be interesting to see how that stage goes, and how the project continues to develop over the coming quarters too.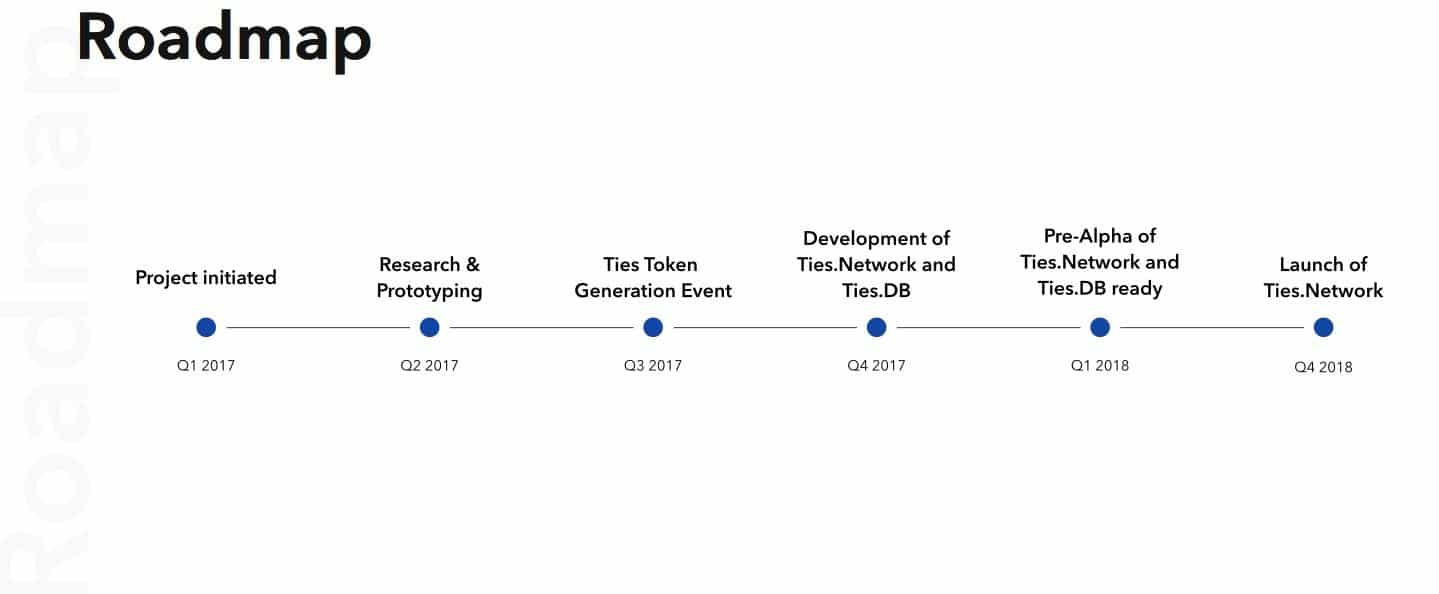 Source: Read Full Article