Ethereum market cap surpasses Shell, Morgan Stanley, and Citi Group – Is Netflix next?
Ethereum is now extremely close to passing its all-time high of just over $1400, set back in 2017. With the bull market starting to heat up, Ethereum could easily reach a value eclipsing the likes of Bank of America, PayPal and Mastercard.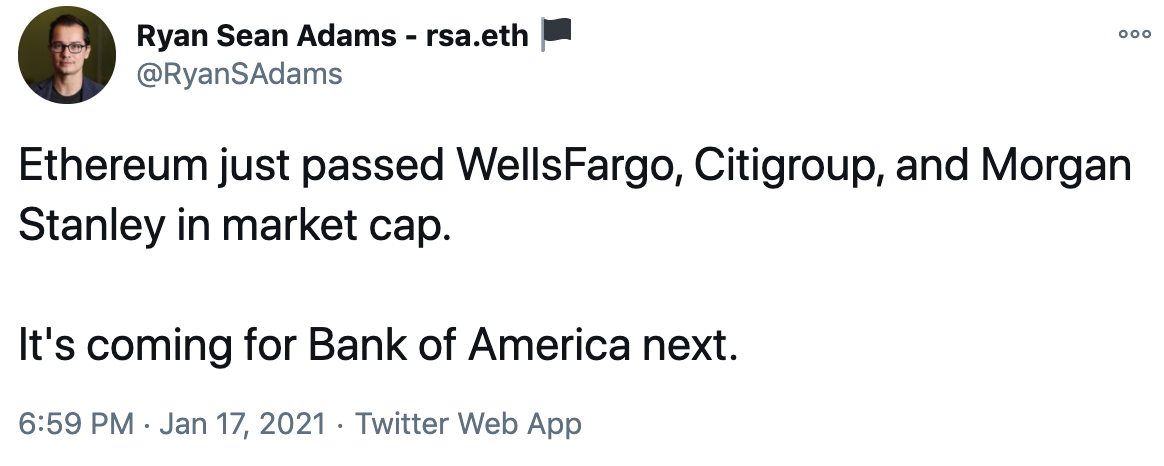 Top assets by market cap
The site Asset Dash ranks the biggest companies/assets in the world and these include Stocks, Internet and S&P 500 companies among others. Apple occupies the top position with a $2.1 trillion market cap. Saudi Aramco is second with $1.86 trillion, and Microsoft is third with $1.6 trillion.
Amazon, Alphabet (Google), Tesla and Facebook hold the 4th, 5th, 7th, and 8th positions respectively, and then we reach Bitcoin in 9th position with a market cap of $684 billion. Ethereum is in 62nd position, having climbed 60 places in the last month.
Ethereum upgrade
Ethereum is up around 350% since the beginning of 2020 and much more is expected as the number 2 Cryptocurrency by market cap launched its much awaited 2.0 upgrade in the last quarter of 2020.
The main problem on the Ethereum network is that of scaling. At times the network becomes heavily congested and this slows down transactions and causes gas fees to rise.
The Ethereum upgrade hopes to solve this problem, and should this happen, then many thousands more transactions per second should be a viability.
The first major change to Ethereum will be its consensus model. At present it relies on Proof of Work, just like Bitcoin. However, it is going to change over to the Proof of Stake consensus model. One advantage here is that the huge electricity costs with Proof of Work are negated, and also transaction times will be faster.
Sharding is another facet of the upgrade that looks to vastly improve scalability and capacity. Sharding will split the network across 64 new chains. This will also make it easier for node operators, as they would only have to operate a node for one shard rather than the whole network.
DeFi (Decentralised Finance) consists of projects that are nearly all ERC-20 tokens and therefore use the Ethereum Blockchain. It seems as though they are seriously taking centre stage again as the DeFi market cap is increasing at an accelerated rate.
The various Decentralised Finance projects in this space necessitate ETH gas fees plus the lock-up of ETH in smart contracts. All this goes a long way towards making ETH more valuable as an asset.
At time of writing this, ETH is touching $1400. The next few hours can see the next all-time-high. A doubling of the Ethereum market cap this year would see it on a par with MasterCard in 21st place of assets ranked by market cap.
With what is in the works for Ethereum 2.0, and an undeniably bullish trend – Ethereum could go even higher.
Disclaimer: This article is provided for informational purposes only. It is not offered or intended to be used as legal, tax, investment, financial, or other advice.
Related TAGS:
You can share this post!
Source: Read Full Article