Binance Ranks as One Of Most Transparent Exchanges in the Market
Binance has been named one of the most transparent cryptocurrency exchanges in the market. According to the Blockchain Transparency Institute, Binance is at the top of the list. The information can be seen in the November 2018 Exchange Rankings Report. Other important exchanges mentioned were Bitstamp, Coinbase and Kraken FX.
Binance One of the Most Transparent Crypto Exchanges
According to the latest Exchange Rankings Report, Binance is the most transparent exchange in the crypto world.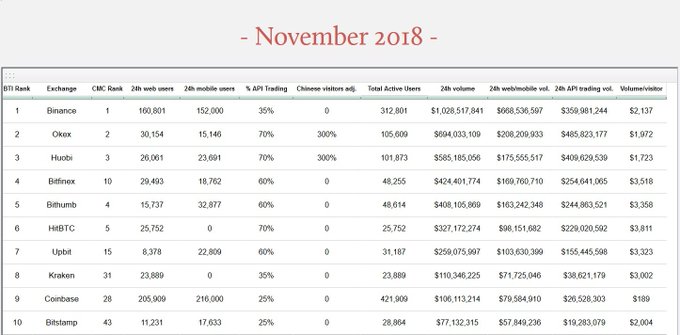 The report uses an enhanced methodology that aims at providing more accurate data about exchange trading volumes. The first report was released back in August and it discovered that there was an excessive was trading in 7 different crypto exchanges in the cryptocurrency market. These exchanges with excessive wash trading were among the top largest exchanges on CoinMarketCap (CMC).
Due to this situations, some exchanges started to request higher listing fees. The report marks that some Chinese exchanges criticized the Blockchain Transparency Institute. Apparently, 50% of the data being tracked was not properly reported due to the Chinese Firewall.
In order to have better results, BTI decided to make some changes to the methodology. The changes have been performed after receiving positive feedback from exchanges and other enthusiasts.
In the latest report, BTI added mobile app and API trading data provided by several analytics sites and exchange reporting. As mentioned before, they adjusted the Chinese-based exchange data. The limits for average daily trades per user are now based on new metrics.
The results from November show that exchanges based in Korea registered the largest number of mobile app users. In some cases, the number of trades made through the telephone application could be up to three times larger than the web traffic.
BTI reported about it:
"Mobile app usage generally ranged from around 50% of web traffic to over 200%. The Korean based exchanges had the highest amount of mobile users, which is in line with a recent study which found Korean's using the largest amount of data of any mobile user in the world. Their mobile app usage was up to3x their web traffic."
API trading was able to find that trading bots gravitate towards exchanges with the largest amount of traffic. Additionally, these bots work in exchanges with transaction mining based fee structure. Those platforms return traders 120% of their fee using the exchange native token. This helps bots to wash trade.
BTI said that they are trying to expand their team to provide better data in the future. The top five exchanges mentioned by the report were Binance, OKEx, Huobi, Bitfinex and Bithumb.
You can find more information on Binance's website and sign up using this link.
Source: Read Full Article