'Pandemic is a Whatsapp moment for healthcare'
'In the case of Aadhaar, we were able to build and enrol 1 billion in five-and-a-half years.'
'For vaccination, it can be done even faster — in just two years.'
'When everybody is coming for vaccination, they can be offered a choice — to create a health record and a digital ID.'
The third book by Nandan Nilekani is expected sometime early next year, and, like his previous two, he is expected to prescribe in this methods and processes of using technology during the pandemic.
But the Aadhaar architect and co-founder and chairman of Infosys knows that the country of over a billion people will have to go for massive vaccination much before that.
In an interview with Bibhu Ranjan Mishra, Nilekani talks about how the learning from Aadhaar implementation, of doing things at scale using technology, will come in handy for implementing agencies.
What is your third book about and when is it expected?
One thing the crisis (pandemic) has shown is that technology is so critical to our lives — whether working from home or online learning, everything is done digitally.
E-commerce adoption has gone through the roof; more people are comfortable doing tele-consultation.
But technology has also led to a lot of excesses — social media, fake news, polarisation, etc.
This book talks about if there is any course correction we need to make in order to be able to continue to get the benefits of technology without leading to excesses.
That's the theme of this book, which will hopefully be out sometime early next year and would be one of the first on technology after the pandemic.
Tanuj Bhojwani, a talented young man who worked with me and a volunteer at iSpirt, is my co-author.
Healthcare has not been a big adopter of technology. Do you see this changing?
This pandemic is a defining moment for (use of) technology in health.
First, people are far more comfortable doing tele-consultation, which has grown dramatically in the past few months.
The demand for online pharmacies has gone up, with some 9 million customers ordering drugs online now as compared with around 3 million prior to the pandemic.
Second, the prime minister has announced a National Digital Health Mission, and the NHA (National Health Authority) has been entrusted with designing the registry of doctors, hospitals, and other entities in the health system, as well as creating the electronic health record with a digital health ID.
I do believe the process of vaccination for COVID-19 will accelerate that.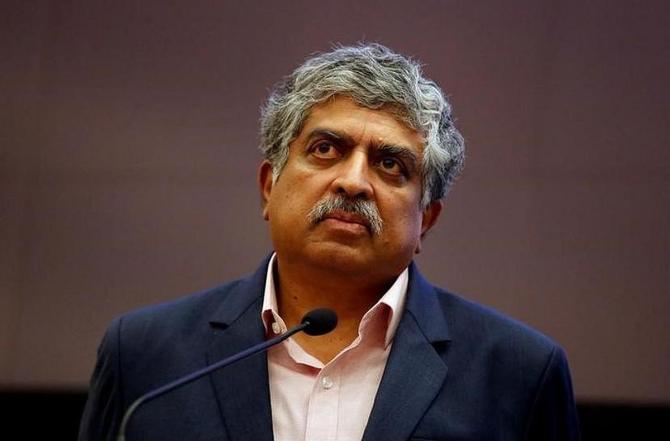 Why do you think so?
Historically, the bulk of the vaccination has been for children's immunisation and pregnant mothers.
If you look at the number of newborns, it is around 25 million every year.
For the first time in history, we have to do vaccination for the entire population of over a billion people, including elderly ones and people with co-morbidities.
So, this gives us a great example of using the Aadhaar-enabled enrolment model except this time we are using it for vaccination.
In the case of Aadhaar, we were able to build and enrol 1 billion in five-and-a-half years.
For vaccination, it can be done even faster — in just two years.
Besides, when everybody is coming for vaccination, they can be offered a choice — to create a health record and a digital ID.
In many ways, the pandemic is a Whatsapp moment for healthcare.
Can one vaccinate the entire population in two years?
This is about the scalability of the architecture.
If you have 100,000 vaccination points doing 50 per day, that will be 5 million vaccinations.
If you are harnessing the power of pharmacies and hospitals, they can pitch in and become trained vaccinators.
We can provide online training, certification, and all that as we did for Aadhaar enrolment.
The challenge at this moment, however, is going to be 'supply'.
I don't think we will be able to hit 5 to 10 million (vaccinations) a day till the end of 2021 unless the supply is very good.
So the entire thing has to be programme-managed, and should not be done with a traditional approach?
This has to be like Aadhaar enrolment; in mission mode — completely programme-managed and tech-enabled.
From the point you entered for vaccination till you get your certificate, everything should be digital real-time.
Source: Read Full Article