How to rewrite India's toy story
While there might be no disputing India's rich toy-making tradition, the industry is langu­ishing for lack of investment and technology, and also owing to competition from cheap im­ports.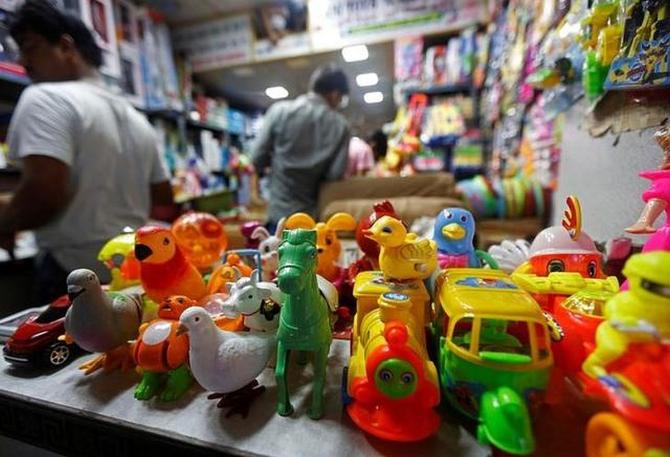 At the mega toy fair in February this year, Prime Minister Narendra Modi spoke of two ancient Indian board games, chess and ludo, to emphasise the rich legacy of the country's toy industry.
And now again he's made a case for innovation in this industry to boost exports and improve India's position in "Toyconomy", as he called it, saying our share in the $100-billion global toy market is currently a mere 1.5 per cent.
Market research agency IMARC echoes Modi when it says that in India, toys date back 5000 years to the Indus Valley Civilisation.
The earliest ones included whistles shaped like birds, toy monkeys that could slide down a string and small carts made from materials found in nature such as sticks, clay and rocks.
While there might be no disputing India's rich toy-making tradition, the industry is langu­ishing for lack of investment and technology, and also owing to competition from cheap im­ports.
And though it has been listed among 24 key sectors under the government's Atm­an­irbhar Bharat Ab­h­i­y­aan, the question re­m­­ains: will this push help pl­ace it in the global game?
Currently, 80-odd per cent of the toys sold in India are imported — nearly 60 per cent of them from China.
The local toy industry is fragmented, with 85 per cent falling in the "micro" category of the micro, small and medium enterprises (MSMEs) where investment in plant and mach­inery does not exceeding Rs 25 lakh.
The industry suffers from both lack of scale and innovation.
Ajay Aggarwal, president of the Toy Association of India (TAI), says the local market remains flooded with cheap Chinese imports since China supports its manufacturers.
"In India, toy parts are mostly made by hand in factories spread over just 200-250 metres and employing 15-20 workers," he says.
"We are happy the government has taken it up as a focus area and is planning a slew of incentives."
A distributor for Funskool, the biggest homegrown toy brand, points out that while cheap and low-quality imports have indeed been the industry's bane, local manufacturers, too, have shown scant regard for quality.
Funskool accounts for 8-12 per cent share of India's toy market and exports toys to several countries including the US and UK.
It obtained BIS certification for its products last year and from January 2021, this certification has been made mandatory for all toys.
This single decision of the government has impacted local manufacturers as well as importers.
The former find the certification process cumbersome and expensive, while the latter are unable to get their factories across the globe certified amid a raging pandemic.
Harsh Khattar, a distributor of California-headquartered Mattel toys, welcomes the mandatory certification even if it has impacted the brand's business in India.
"Its long-term impact will be good because there is now emphasis on quality.
"This could also improve the selling price of toys," he says, adding, "But in the short term, it is difficult for the industry as imports are getting stalled.
"We used to stock 500-600 SKUs (stock-keeping units) earlier, but are now working with just 40-50 SKUs."
As tighter quality norms bring about a shift in the industry dynamics, Jaimin Shah, MD of Bharat Balloons, says the government should also facilitate technology transfer and control the steep rise in raw material prices.
His company is the second largest maker of balloons in India, the prime raw material for which is latex rubber.
Shah says latex prices have risen by up to 30 per cent during the second wave of Covid-19, while plastic, the other key raw material, has seen a jump of almost 50 per cent in prices since last year.
"We need to promote FTAs (free trade agreements) with at least the Saarc nations so that import of raw materials and export of finished products become duty-free," he says.
Jimmy Joy of Jovin Kidzz Enterprises in Thrissur manufactures baby tricycles, cradles, walkers and other physical toys in two factories (in Kerala and Delhi) and sells them in Tamil Nadu and Kerala.
He would like to explore ex­ports but lack of clarity over business prospects in unknown markets is holding him back.
A key industry dem­and, says Aggarwal of TAI, is the creation of a Toy Promotion Board that can guide and look into problems of both manufacturers and exp­o­r­ters.
As of now, the toy industry is clubbed with the sports goods industry and issues, if any, must be taken to the Sports Goods Export Promotion Council.
Currently, toy exports account for just about Rs 1,000 crore turnover.
Manufacturers and traders also want the government to create specialised toy hubs — like the toy park it promised to set up near Je­war in Uttar Pradesh but hasn't yet, says Sanjiv Mehra, president of Delhi's Khan Market Tra­ders' Association and owner of Allied Stores, a toy shop.
Mehra also wants the government to impose punitive duties on import of toys and encourage large global brands such as Hasbro, Mattel and Lego to manufacture in India.
TAI's demand includes land for toy manufacturing under the plug-and-play mode, where the government leases out land parcels instead of manufacturers having to buy expensive real estate.
This will free up working capital for the micro and small players.
There is much appreciation for the way the Vietnam government, for example, has hand-held its toy industry.
Aggarwal says, "In five-seven years, the toy industry turnover in Vietnam has grown by 1,000 times because the government signed FTAs where exports to the US and Europe became tax free."
India's toy story, too, needs such a strong plot.
The National Toy Action Plan, prepared by the Department for Promotion of Industry and Internal Trade, could be the opening chapter.
Photograph: Rupak De Chowdhuri/Reuters
Source: Read Full Article