How the Rs 42000-cr Essar Steel deal was sealed
To make the deal happen, Aditya Mittal, president and chief financial officer, ArcelorMittal fought a gruelling battle – in courts and outside – for 865 days.
Finally, Essar Steel was bagged under India's new insolvency law, in Rs 42,000-crore deal mid-December with secured financial creditors recovering around 90 per cent.
Ishita Ayan Dutt takes you through the maze of events that finally gave shape to deal.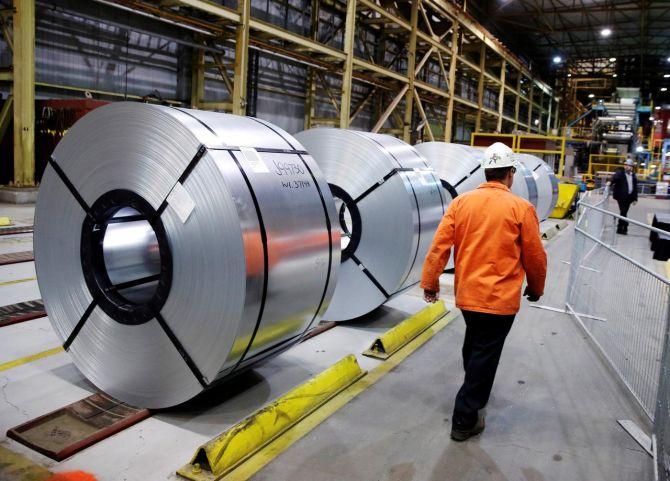 Aditya Mittal, president and chief financial officer, ArcelorMittal, and chairman, ArcelorMittal Nippon Steel India (AM/NS India), was struck by the potential of Essar Steel's Hazira plant on his very first visit in November 2017.
To make the deal happen, Mittal fought a gruelling battle – in courts and outside – for 865 days.
Finally, Essar Steel was bagged under India's new insolvency law, in Rs 42,000-crore deal mid-December with secured financial creditors recovering around 90 per cent.
There is no let-up in Mittal's excitement.
"Today, I remain as excited as I was on that day, when in the company of colleagues from ArcelorMittal, we sketched the future for Essar Steel," Aditya Mittal said in his inaugural newsletter to employees.
Essar Steel is now AM/NS India and it is just revving for a new beginning.
A management team with members from Arcelor and Nippon is being put in place to drive what Mittal describes a "bold and confident" plan for the company.
Dilip Oomen, managing director of Essar, however will continue to remain with the business as AM/NS India's chief executive officer (CEO).
The start of CIRP
Getting to this point wasn't easy.
The road was riddled with challenges as much for ArcelorMittal as it was for stakeholders.
From resolution professional (RP), Satish Gupta, to his advisors, Alvarez & Marsal (A&M), to lenders and last but not the least, the management and employees, played their part.
Essar – one of the 12 cases mandated for resolution under the Insolvency and Bankruptcy Code (IBC) by the Reserve Bank of India (RBI) – was admitted to the National Company Law Tribunal (NCLT) on August 2, 2017.
Once the case was admitted, the board of directors was suspended, and the RP and A&M took over operations, cash management and compliance.
For the management and employees of Essar, it was a moment of uncertainty.
Suddenly, the team that was used to taking directions from the Ruia family had to take instructions from the RP and A&M.
The insolvency law was still quite fresh and Essar one of the test cases. This made it more complex.
"Given the uncertainty, we had to over-communicate with all the stakeholders, internal and external, providing them comfort that Essar Steel was a going concern and how we believed the insolvency resolution process would work," said, Nikhil Shah, managing director A&M, leading the firm's turnaround and restructuring practice.
Managing the process
A team of 25-30 people from A&M, at varying times, focused on three broad areas: The first was operationally managing the company so that there was no deterioration in value; the resolution which involved seeking bids from resolution plan applicants and third was the insolvency administration which included claims management, avoidance actions and supporting the litigation process.
"We had several town hall meetings with all the employees, one-on-one meetings with the senior management team and with 30 top suppliers and customers.
"Building confidence in the senior leadership, suppliers and customers was important to allow the company to continue operating as a going concern," said Shah.
One of the initial challenges after taking over was to regularise the appointment and remuneration of senior professionals, managing director, director (technical) and CFO in consultation with the CoC (committee of creditors), as it was pending approval on account of default of Essar Steel to lenders, said Satish Gupta.
Restoring confidence in suppliers and customers were the other important cogs.
The cash management was done by A&M.
Vivek Kamra, managing director, Alvarez & Marsal, part of the firm's performance improvement and restructuring business, said, "Any payment that was made was approved by A&M and the resolution professional.
"That meant 500 payment transactions a day, 10,000 payments a month to suppliers and service providers."
Lenders of Essar Steel, led by State Bank of India, however, already had a mechanism of 'Trust and Retention Account' (TRA) for monitoring cash flow to prevent any diversion prior to initiation of insolvency.
Sifting through claims was yet another challenge.
The total claims filed by the financial and operations creditors with the RP was about Rs 82,000 crore; finally what was admitted was Rs 54,500 crore, the rest was either disputed or not substantiated by proper legal documents.
A stellar performance
At the start of the CIRP, Essar was generating Rs 1,800-2,000 earnings before interest, tax, depreciation and amortisation (Ebitda) at approximately 50 per cent capacity utilisation.
But the numbers climbed eventually.
"While it is not our policy to comment on CIRP process, the trust of customers, confidence of vendors and the commitment and resilience of our employees helped the company tide over this uncertain period with very good performance in production, sales and profitability, said Dilip Oommen," CEO, AM/NS India.
In FY17, Essar's rolled steel output stood at 5.47 million tonnes, which finally increased to 6.78 million tonnes in FY19.
Banks lent a helping hand here. After NCLT judgments in Amtek Auto and another case, existing lenders stopped tagging from the TRA and accruals from operations were ploughed back for enhancing operations to take advantage of a buoyant steel market.
As a result, production per month increased from an average of 460,000 tonnes in FY17 to 600,000 tonnes.
At the same time, for customers, the on-time delivery performance index improved 25-27 per cent.
Getting ready for bidders
Stabilisation and ramping up operations were important for value maximisation.
"We knew that there was significant value in Essar Steel and carried out a massive outreach programme across Japan, Korea, China, Brazil, Russia to elicit interest from potential bidders," said Nandini Chopra, managing director, A&M, leading the firm's corporate finance practice.
The IBC had very little on how to run a sale process.
"The requirements were rudimentary to say the least.
"A newspaper advertisement, one English and vernacular, the company's website, and a bare bones information memorandum. Unfortunately that's not good enough," Chopra pointed out.
Finally, seven expression of interest (EOIs) were submitted: Tata Steel, Vedanta, SAIL, ArcelorMittal, Nippon, Numetal and a fund.
But some fell off as there were other steel assets available through insolvency at the same time.
Then just before bidding, the government introduced Section 29A to prevent defaulters from bidding which made the process tougher not just for the bidders, though.
"We first thought that we would have to vet a few hundred entities like group and associate companies.
"But it turned out to be an enormous task with close to 3,000 entities that had to be scrutinised on account of the global operations of ArcelorMittal, Vedanta and Numetal and their partners such as VTB, Nippon Steel and others," said Chopra.
As a result defaulting firms like Uttam Galva and KSS Petron came to light and the Rewant Ruia connection.
The RP rendered both Arcelor and Numetal ineligible.
Through the court process the rejection was upheld and the Supreme Court provided the bidders a chance to rectify.
ArcelorMittal rectified while Numetal did not.
The rest is history dotted with its famous moments.
Photograph: Mark Blinch/Reuters
Edited by Nandita Mallik
Source: Read Full Article