Amazon opens Blockchain Service, Direct Competition to Microsoft, Intel & IBM
The company announced that fully managed blockchain services will be available to their entire consumer base. Through their tech branch at Amazon Web Services (AWS), Amazon will support companies to realize the potential benefits of adopting blockchain technology, without the overhead costs of programming and maintaining the network, according to a press release published by the company on April 30th.
AWS is a popular go to choice for many startups, as well as established companies and enterprises. Now, they are able to utilize blockchain services which would require a minimal amount of maintenance and coding, as Amazon is taking care of these needs. The news is supported by statements from existing clients utilizing these services, such as Nestle, Accenture, AT&T, Singapore Exchange Limited, and others. Their participation is providing the initiative with incredible amounts of credibility.
Coming from Amazon, the marketplace that has been utterly reluctant to incorporate cryptocurrency payments within its system, it is surprising that they have managed to understand the benefits of blockchain technology. However, one thing is certain about Amazon. They are adamant on tracking the market, and a significant number of their customers can be expected to have requested such services, an inquiry which the company happily answered.
The use cases for blockchain technology is much broader than cryptocurrency, and the potential benefits in reducing costs and time expenses, the increase in transparency (if implemented to provide transparency), as well as the ability to fundamentally change how business is conducted, has finally convinced Amazon to go public with these developments.
Competition
The news comes at a good time as well for the company, as there are active competitors in the field. Frameworks and open source code such as Hyperledger Fabric and Ethereum have already provided a part of the latest Amazon offer, requiring companies to hire new staff and purchase equipment to make blockchains work for them.
Then you have the enterprise level competition with companies such as Microsoft, IBM, and Intel being present on the marketplace for much longer than Amazon has. It is unclear whether or not they will be able to overshadow the successes of these giants in the field. Only time will show who is going to be the leader of the pack in blockchain services.
Other competition includes companies which are offering the same type of service (managed blockchain services), and have been offering them for longer than Amazon has, such as TokenD, Atato, and Jelurida. Of course, these companies do not have the same resources and recognition that Amazon has, but by taking swift action Amazon has managed to make the first step towards the global domination of yet another field.
The market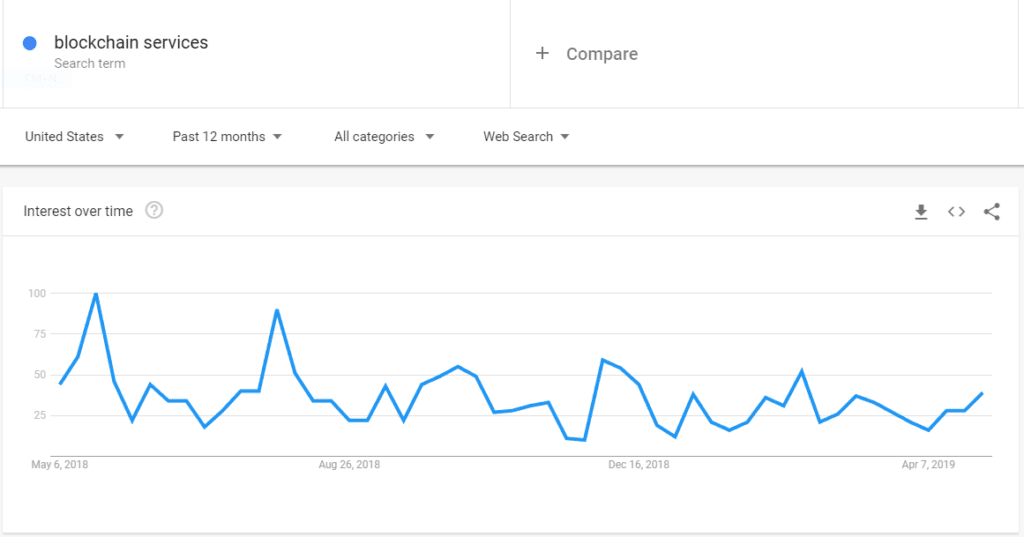 Putting ourselves in the shoes of the particular market that these companies are targeting can be tricky. They are offering the service to entrepreneurs, individuals which are running a business or corporations responsible for the wellbeing of a company. They are interested in lowering costs, increasing their market potential, and improving the quality of their products or services.
Blockchain can certainly do something about that. Once these leaders learn about blockchain the very next step would be to search for "blockchain services" on google, to get acquainted with the companies that can help them extract the benefits from this technology.
Even though the news broke on the 30th of April, out of all of the top-tier tech enterprise companies, only Amazon is featured on the first page of results. The rest is filled with Blockchain.com, various smaller BaaS (Blockchain as a Service) companies, and Wikipedia links. While we do not have the exact numbers of the amount of people searching the term, it is becoming obvious that Amazon Web Services is most likely going to be on a relatively easy path to the top of the search results pages, and with that closest to the customers actively seeking to incorporate blockchain technology.
However, most of these enterprises already have a long list of existing clients which are using different parts of their offer. All that it takes is to have Microsoft, IBM, or Intel sales representatives present the benefits of blockchain and inform the decision makers about the positive impact this technology can have for their business. The market is headed in the way of adopting blockchain technology, but we don't know who the winner will be in the end (or even if there is going to be one).
Source: Read Full Article